News story
Gold for East Village at top property awards
East Village has been named 'development of the year' at the 2014 RESI Awards, which celebrate excellence in residential property.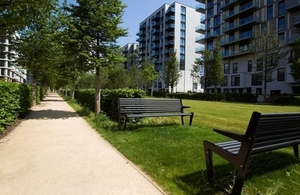 East Village beat off stiff competition to scoop the prestigious award for 'development of the year' at this year's RESI Awards, organised in partnership with the British Property Federation and real estate firm IPD. This builds on the success of East Village after it received the Mayor of London's award for planning excellence and named 'best new place to live' at the London Planning Awards earlier this year.
The legacy owners of the private rental homes at East Village, Get Living London, also picked up an award for 'newcomer of the year'. The successes recognise the innovative and sustainable design of East Village, and the excellence achieved in the quality of the 2,818 new homes, 25 acres of parklands and open spaces, a state-of-the-art education campus, health centre and community facilities.
East Village, London's newest neighbourhood, is already home to more than 1,500 people. Nine of its eleven residential areas have been completed and handed over to legacy owners Get Living London and Triathlon Homes. East Village offers both private rental homes with Get Living London and affordable housing through Triathlon Homes. The final homes are due to be completed this summer.
The design and construction of East Village was overseen by the Olympic Delivery Authority, with Lend Lease as Development Manager and sixteen architects working on distinct areas of East Village alongside Fletcher Priest Architects who developed the original masterplan.
ODA Chief Operating Officer Gerry Murphy said: "We invested a huge amount of time and effort into making sure that East Village would be a great place to live – building on the success of the Olympic Village to produce new homes of the highest quality, beautiful parklands, accessible for everyone, with unrivalled transport connections, and fantastic facilities to support the new neighbourhood.
"I am thrilled that East Village has picked up another award, which is testament to the hard work of everyone involved over many years."
The scale and complexity of East Village is unique, and the planners and contractors had to rise to the challenge of accommodating 23,000 athletes and officials during the Games, to converting more than 2,800 homes – far more than any traditional residential project would produce at one time. All homes have achieved Level 4 of the Code for Sustainable Homes, the largest project to so far reach this standard.
East Village also has a brand new Academy that opened last September, and a state-of-the-art Health and Wellbeing Centre with 800 Village residents and local people from the Newham area now on its books.
It has more than 25 acres of new parks and open space, with landscaping, spacious lawns, children's play areas, and a wetland bowl that recycles water and links the site to Queen Elizabeth Olympic Park.
Derek Gorman, Chief Executive of Get Living London, said: "From Athletes' Village to new homes for Londoners - East Village is the first of its kind and we are delighted to be named 'Development of the Year' at this year's prestigious RESI Awards. With hundreds of people living in East Village and more homes now available, the RESI Awards win is a great indicator that we are providing quality housing for Londoners and making a positive impact on the local community."
Elliot Lipton, Executive Director of Triathlon Homes, said: "This award for Development of the Year is a fantastic honour. The quality of the mixed-tenure of homes, excellent landscaping and the community facilities in East Village, not only supports the demand for homes for Londoners but, offers a housing option unrivalled in London."
London Planning Awards website
Published 15 May 2014