East Midlands welcomes 9th/12th Royal Lancers back from Afghanistan
Hundreds of well-wishers have lined streets across the East Midlands to welcome the 9th/12th Royal Lancers home from a successful and challenging tour of Afghanistan.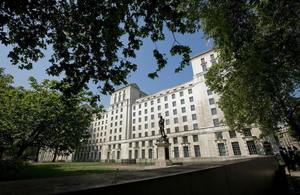 Over the past week, the regiment, which returned from Afghanistan less than a month ago, has marched through Northampton, Leicester, Derby and Chesterfield to mark its return and thank the local communities for their support.
Cheering people of all ages and backgrounds turned out to welcome the soldiers home. Shop workers stood in their doorways, children climbed on walls for a better view, and families proudly waved 'welcome home' banners as the 9th/12th Royal Lancers marched through the streets accompanied by the Light Cavalry Band.
Captain Sam Tripuraneni said:
Marching through our home towns is extremely important to us. Every member of the regiment has enjoyed taking part in the homecoming parades. We had tremendous support from back home whilst deployed. We simply couldn't achieve what we do without their support.
Over 250 soldiers deployed to Afghanistan in a variety of roles from the regiment's home base of Hohne in Germany.
Lieutenant Colonel Will Fooks, Commanding Officer of the 9th/12th Royal Lancers, said the six-month deployment to Helmand on Operation HERRICK 14 had been a demanding operational tour:
This has been one of the toughest tours the regiment has deployed on. The soldiers have had to endure the scorching heat, austere conditions and a vicious and indiscriminate enemy.
What marks this deployment out from others are the advances that have been made in the Afghan warriors' [soldiers] ability to act independently [from us] and use their own initiative.
Working alongside the Afghan warriors has had its frustrations, but using all their ingenuity and diplomacy the Lancers have made significant progress.
Their Afghan partners now plan operations themselves, manage detailed patrol programmes, and can sustain themselves in the field for extended periods. This in turn has allowed security to be improved and expanded in the squadrons' respective areas of operations; security which is increasingly being delivered by the Afghans themselves.
And with this more secure environment, new rural 'parish councils' have appeared and blossomed; this is significant because these councils are what give the local people a voice, which the insurgents had previously tried to deny them.
During the six-month tour one member of the regiment was killed: Lance Corporal Paul Watkins was killed in action on 16 July 2011.
Published 29 November 2011