East Midlands Universities Air Squadron exercises Freedom of Nottingham
The freedom was awarded to the squadron in June last year, and this was the first time its members had exercised the right. 30 students from…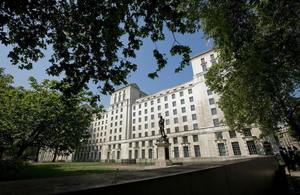 The freedom was awarded to the squadron in June last year, and this was the first time its members had exercised the right.
30 students from EMUAS, under the command of Acting Pilot Officer (APO) Helena Richardson, were joined by 73 Engineer Regiment (Volunteers) and the Nottinghamshire Band of the Royal Engineers (Volunteers) on the march through the city and paraded in front of the Lord-Lieutenant of Nottinghamshire Sir Andrew Buchanan and the Duke of Westminster, Major General Gerald Cavendish Grosvenor.
APO Helena Richardson joined EMUAS in 2008 and is a mechanical engineering student in her last year at Nottingham University. She was joined on parade by four Flight Commanders - APO Josh Head, who is studying maths at Nottingham, APO Stu Gorman, who is studying mechanical engineering at Loughborough University, APO Jason Chadwick, who is studying aeronautical engineering at Loughborough, and APO Louisa Price, who is studying medicine at Nottingham.
APO Helen Richardson was also joined on parade by her sister Gabrielle, who is in her first year at Nottingham doing French and Hispanic studies.
After the parade there was a VIP reception at the castle attended by the Officer Commanding EMUAS, Squadron Leader John Clark, along with four of the students. They later joined the rest of the squadron and their families at an informal gathering at their headquarters in Beeston.
Squadron Leader Clark is an ex-Tornado F3 and Tucano display pilot who had the rare privilege of flying with the Royal Australian Air Force in Perth, training pilots on equivalent aircraft.
While not marching with the student body, he said:
I am delighted and privileged to be in command of this fine body of students. They represent the best of the younger generation on this, the first opportunity for EMUAS to exercise its rights of the Freedom of the City of Nottingham.
EMUAS, which is based at RAF College Cranwell in Lincolnshire, started life as Nottingham University Air Squadron in 1941. Formed by the university, they still occupy the university-owned original ex-observatory; now a listed building.
For most of their existence, the squadron flew from Nottingham, then RAF Newton, the only RAF base in Nottinghamshire. Renamed EMUAS with the addition of Loughborough, Leicester, Trent, De Montfort and Lincoln, the squadron retained close links with Nottingham, but moved to Cranwell in 2000 following the closure of RAF Newton.
EMUAS remains closely involved with the university through their supportive Military Education Committee of past and present academics. As the second largest UAS in the country the input to RAF careers is unequalled. However, many students enter other professional careers having benefited from the discipline and training afforded to them on the squadron.
Published 9 May 2012