Press release
Earn while you learn: Ofsted recruiting 5 apprentices
Ofsted is recruiting 5 apprentices to join the organisation from April 2013.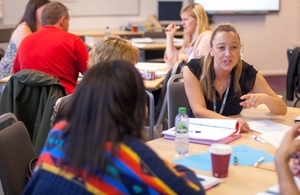 They will be recruited through an external company specialising in training and recruitment for apprentices.
Ofsted has said many times that the government should prioritise its funding and create more apprenticeships. From April, Ofsted will be putting this recommendation into practice and for the first time employing 5 apprentices to work in its National Business Unit in Manchester. Here apprentices will be taught high quality customer service skills while dealing with concerns and queries from the public.
National Director of Learning and Skills, Matthew Coffey said:
This week is National Apprenticeship Week and I am pleased to announce that we are recruiting for 5 apprentice positions for young people to gain real, work-based skills. Apprenticeships give young people an alternative to a university education by offering on the job training.

Embarking on an apprenticeship gives young people an alternative route into a professional career allowing them to earn while they learn. The vocational route should have equal status to the academic route in the eyes of schools, young people and their parents. There are some outstanding opportunities for young people to enter a high status vocational pathway, but there needs to be more of them and young people need to be made more aware of the range of vocational routes that already exist in this country.
An apprenticeship is a combination of employment and training open to anyone over the age of 16. There are more opportunities becoming available for apprentices within the Civil Service which will build a UK-wide scheme, generating up to 500 places a year.
Media enquiries
Clive House
70 Petty France
London
SW1H 9EX
Published 15 March 2013