Earl of Wessex visits the RTMC
His Royal Highness The Earl of Wessex has made his first visit to the Reinforcements Training and Mobilisation Centre (RTMC) at Chilwell in Nottinghamshire.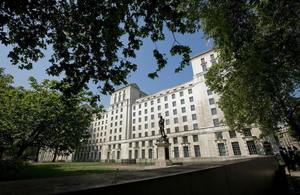 RTMC Chilwell is responsible for the training, equipping and administering of all individual Service and civilian reinforcements in order to prepare them for service in operational theatres, including Afghanistan, or for peacetime defence commitments.
His Royal Highness Prince Edward visited the RTMC on Monday, 28 May, in his capacity as the Royal Honorary Colonel of The London Regiment, to see for himself how the RTMC receives and administers reservists before they start their pre-deployment training and service overseas.
A total of 21 soldiers from The London Regiment are currently mobilising through the centre for onward deployment to Afghanistan later in the year. Prince Edward spent the morning touring the facilities and chatting to members of the regiment.
The Prince was accompanied by the Commanding Officer of The London Regiment, Lieutenant Colonel Marc Overton. Both could be seen carrying a cromack or staff, which is a Highland tradition.
All military personnel attend an individual reinforcement training package at the centre before joining the unit they will deploy with. The soldiers attend mandatory briefings, undergo administration, medical and dental checks, and receive all the clothing, kit and equipment required for their deployment.
As well as being the organisation that helps prepare individual reinforcements for active service, RTMC Chilwell has a part to play in welcoming troops back to the UK and helping them return to their routine military or civilian lives. This ensures all the individual reinforcements receive a post-deployment briefing pack, which is given to personnel as they leave theatre. The pack includes leaflets and a presentation covering post-traumatic stress disorder reactions.
The London Regiment is the only Territorial Army regiment in the Guards Division and provides infantry soldiers to reinforce the five regiments of Foot Guards.
It comprises five companies which are spread geographically across the Greater London area in Balham, Battersea, Blackheath, Camberwell, Catford, Edgware, Hornsey, Russell Square, St John's Hill and Westminster. It is a fully operational reservist unit, having deployed twice to Iraq in 2004, and to the front line in Afghanistan in 2007, 2010 and 2012.
Published 29 May 2012