Earl of Wessex visits TA training camp
HRH The Earl of Wessex pays a visit to reservist troops from the London Regiment who are taking part in a two-week annual training camp in Catterick, North Yorkshire.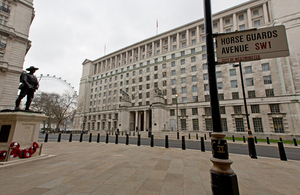 The annual training period (ATP) forms the end of the pre-mobilisation phase for at least 50 of the Territorial Army (TA) soldiers who are hoping to mobilise in November 2011 to deploy to Afghanistan in Spring 2012.
As he has recently been appointed Honorary Colonel of The London Regiment, Prince Edward travelled to the training camp to see for himself some of the pre-mobilisation training that the troops undertake.
A spokesman for His Royal Highness said:
Prince Edward had very much looked forward to visiting The London Regiment on their ATP in order to support the preparation for operations.

He regards being Colonel of the Regiment a huge privilege but there is much to learn and no better way than doing so by visiting soldiers in the field.

He looks forward to getting to know all members of the regiment as well as he can in the years ahead and being part of the regimental family.
Commanding Officer of The London Regiment, Lieutenant Colonel Marc Overton, said:
The regiment are extremely grateful that His Royal Highness The Earl of Wessex was able to visit us yesterday in his capacity as our Royal Colonel.

This was a great opportunity for him to meet officers and soldiers and watch them being put through their paces on a very windy and rainy day!

The Royal Colonel was also able to meet some of the soldiers who are soon to put their 'day jobs' on hold and mobilise for a tour of Afghanistan.
Over two hundred reservists are taking part in a final test exercise which comprises three, 24-hour tactical scenarios requiring them to draw on their core infantry skills.
The reservists, who come from all walks of life, have braved the driving wind and rain carrying out night patrols and deliberate attacks.
The London Regiment is the only Territorial Army regiment in the Guards Division and provides infantry soldiers to reinforce the five regiments of Foot Guards. Since 2004 it has supplied over 420 soldiers for operations in Iraq and Afghanistan.
Published 7 September 2011