Press release
DWP Chief Information Officer announces retirement
After more than eight years as CIO for the DWP and Government , Joe Harley, CBE, has decided to retire in the Spring of 2012.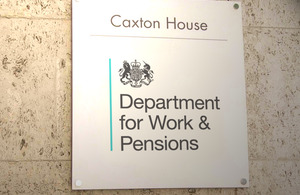 After more than seven years of major accomplishments as CIO for the DWP and one year as the Government CIO, Joe Harley, CBE, has decided to retire from the Civil Service in the Spring of 2012.
Joe has transformed IT in the Department which has made a huge difference to the efficiency and effectiveness of IT and of the DWP as a whole.
Work and Pensions Secretary Iain Duncan Smith said:
I would like to thank Joe for his significant and exceptional contribution to DWP and the Government - he has been instrumental in building reform and modernising our approach to technology.

Joe leaves us with our highest regards having secured this Government well-placed to deliver major reform in the future.
Joe said:
It's been a great honour and a privilege to have served the Department and Government over the years. It's been a hugely fulfilling experience. I am proud to have made some contribution to improving Public Services for the benefit of the citizen and the tax payer.
DWP Permanent Secretary Robert Devereux said:
I want to thank Joe for his enormous contribution to the Department's performance. He has been pivotal in establishing commercial arrangements which give value for money, and in the delivery of major changes to IT underpinning services which are critical for millions of people every day. The IT for Universal Credit, in particular, is on track.  I wish him well in his retirement.
Cabinet Office Permanent Secretary Ian Watmore said:
Joe has accomplished great things in his time as Government CIO, having created and published a transformational ICT Strategy, along with plans of how it will be implemented. 

I would like to thank him personally for his leadership and huge contribution to Public Service and the ICT Profession across Government.
Minister for Cabinet Office Francis Maude said:
Joe has played an integral role in the past year whilst as Government CIO - he has led the delivery of a new ICT strategy and strategic implementation plan.

These will ensure that the old siloed way of developing government ICT projects comes to an end, and leaves us with all departments working together to produce a fit-for-purpose and cost effective ICT system potentially saving £1.4 billion over the next 4 years.
The process for selecting his successor, as CIO for DWP, will begin immediately. The Cabinet Office will run a separate process for the next Government CIO along with the process that is already underway to replace Bill McCluggage, the Deputy Government CIO.
Notes to Editors
Media Enquiries: 0203 267 5115
Out of hours: 07659 108 883
Follow us on Twitter: www.twitter.com/dwppressoffice
Published 21 November 2011