DVSA supports new LGV industry driving instructor scheme
The Driver and Vehicle Standards Agency (DVSA) is supporting a new scheme for people becoming a large goods vehicle (LGV) instructor.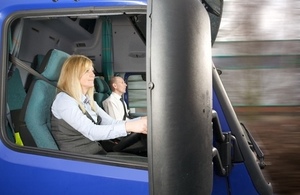 DVSA has run its own voluntary register of LGV driving instructors for some time, but is bringing the scheme to an end on 31 December 2016.
This will allow DVSA to focus on carrying out driving tests it has a statutory responsibility to provide. This will help DVSA to keep waiting times for lorry, coach and bus tests to a minimum.
Continuing the benefits of the instructor register
DVSA has worked closely with the training industry and the trade associations to make sure that the benefits of a register continue.
RTITB (formerly known as the Road Transport Industry Training Board) has launched a new national register of LGV instructors, which is endorsed by DVSA. The register goes live from 1 January 2017.
The new register will be run on a non-profit basis. It will promote the value and importance of being part of a recognised, quality-assured, register of instructors.
Everyone on DVSA's voluntary register of LGV instructors can transfer to the new register for free.
Setting standards for safe and responsible driving
Mark Winn, DVSA's Head of Vocational Policy, said:
DVSA's first priority is to help you through a lifetime of safe driving.

I'm proud that DVSA will be supporting the new LGV industry driving instructor register.

DVSA will be part of the governance committee overseeing the delivery and development of the register and associated examination. We'll continue to set standards for driver training through our role on the committee, and by maintaining the national standard for driving lorries.
Richard Brewer, Manager of the National Register of LGV Instructors, said:
The new register will be run on a not-for-profit basis for the road transport industry, by the industry, which is best placed to develop a relevant and robust register for the future.

By working together, the register will improve the standards of LGV driver training, while providing an opportunity to further expand the register and professionalise the LGV training industry as a whole.
Industry support for the new register
The new register is also being supported by the Road Haulage Association (RHA) and the Freight Transport Association (FTA).
Colin Snape, RHA Deputy Director of Policy, said:
The Road Haulage Association fully supports the need for professionalism of LGV drivers trainers and the need for a formal register.

We believe that with RTITB taking on the register, continuity of excellence in LGV driver training will be maintained.
Published 2 December 2016