News story
DVSA publishes new load securing guide for vehicle operators
New guidance has been published by the Driver and Vehicle Standards Agency (DVSA) to help vehicle operators transport loads securely.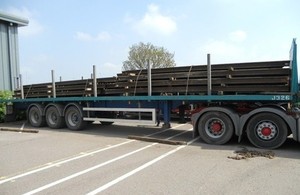 The guide, which has been developed with the transport industry, sets out important information like:
who's responsible for load securing
the consequences of poor load securing
how DVSA enforces the rules on load securing
It gives practical advice about:
loading on different types of vehicles
carrying different types of loads
The guide includes videos so operators can find out things like:
what DVSA looks for when it stops a vehicle at the roadside
how different load securing systems can be used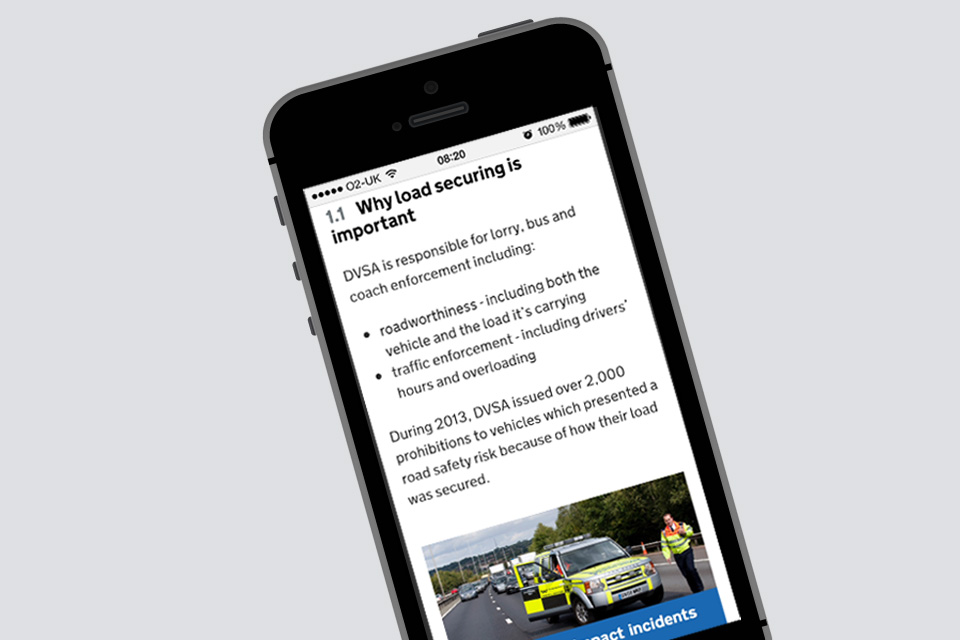 Stopping danger to road users
Effective load security:
stops goods from falling onto roads, which poses a danger to all road users
saves time and money by making sure that goods arrive at their destination undamaged
During 2013, DVSA issued over 2,000 prohibitions to vehicles which presented a road safety risk because of their load security.
Alastair Peoples, DVSA Chief Executive, said:
Everybody involved in the transport chain needs a good understanding of load securing. The guide shows examples of good practice that can be used, and the serious consequences of poor load securing.

DVSA will continue to take action against drivers and operators who transport unsecure loads.

I encourage all operators to take time to read the guide and follow the practical advice. By transporting loads securely, you'll help to make our roads safer, and save time and money by reducing the cost of damaged goods.
Support from the transport industry
Andy Mair, Head of Engineering at the Freight Transport Association (FTA), said:
The FTA is pleased to have been given the opportunity to assist in assisting in the development of this DVSA load security guide which will assist vehicle operators in the transport and supply chain industry in understanding some of the methods of securing loads, and to improve compliance with load securing standards.

The guidance is primarily aimed at general haulage operators, and contains some good practical advice for FTA members which provides them with important information regarding securing loads in curtain side vehicles used on pallet and general haulage type operations which is welcomed.
Jack Semple, Director of Policy at the Road Haulage Association, said:
We are pleased to have been involved in the production of this guide, particularly in ensuring that the responsibility of the consignor, who is loading the vehicle, is given equal prominence to that of the operator and of the driver.
Published 27 March 2015