News story
DVLA release thousands of R prefix registrations for sale online
From 15 April 2015, thousands of new R prefix registrations starting from £250 will be available for you to purchase online.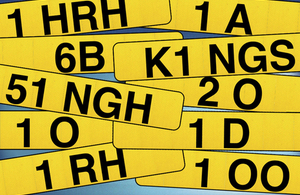 The introduction of this new series has opened up a whole new range of potential registration combinations, such as R21 AMY, R321 DAN and R25 PAT.
On 1 April you'll be able to view these combinations on our website.
Buy a personalised registration number online
Our website has thousands of registrations available so you can come up with your perfect plate and then buy directly online.
Buying directly from DVLA also means no additional charges as VAT and the fee to assign a registration to a vehicle are included in the price. The R prefix registrations can be bought at a fixed price, through the website.
Stay Informed
On YouTube, Facebook and Twitter.
Sign up to our newsletter to receive the latest personalised registration news and release information.
Published 24 March 2015