News story
DVLA publishes new IT Strategy
The DVLA published its IT strategy today outlining its focus and priorities for the next three years.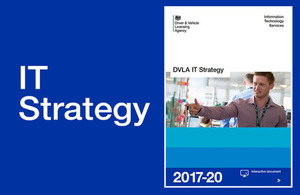 The agency, which has some of the government's flagship digital services, is committed to using advances in technology to make things simpler, better and safer for its customers.
The IT strategy will enable the DVLA to deliver its recently published three year strategic plan, which focuses on uniting business, digital and technology with a goal to build dynamic online services with unrivalled safety and security.
Dave Perry, DVLA Chief Technology Officer, said:
Our aim is to become a hub for digital motoring. We are transforming our IT estate to deliver our digital transformation ambitions and create the best online services for customers.
Our services are at the forefront of technology and our organisation design will be optimised to deliver migration from our legacy IT platforms. Our IT strategy will ensure we continue to deliver systems that are fit for the digital age in which we live.
Keep up to date
Subscribe to our DVLA Digital Services blog to keep up to date with the latest developments on our IT strategy.
Published 27 June 2017