News story
Win a Mini in DVLA personalised registrations auction prize draw
DVLA is celebrating its 25th year of selling personalised registration numbers with a free prize draw to win a Mini One car.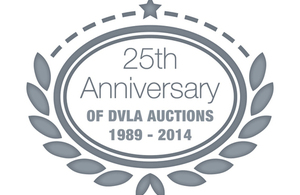 DVLA has been selling registrations since 1989. This year is not only our 25th anniversary but we'll also be holding our 150th auction. To mark the occasion there will be a prize draw where we will give away a Mini One.
In line with DVLA's corporate values the Mini One has low emissions, is fuel efficient and manufactured in the UK.
How to enter the prize draw
To enter the prize draw you will need to register to bid for registration plates or the purchase of unsold plates following the auction at the DVLA live auction in November. Registration for the November auction is now open and will close at 2pm on 1 December 2014.
Those that registered to bid at the September live auction will also be entered into the draw.
Winner selection and notification
The winner will be drawn by 15 December and will be informed by 31 December.
Further information is available on DVLA's auction site.
Published 2 September 2014
Last updated 23 September 2014
+ show all updates
Text updated to include the make and model of the vehicle you could win.
First published.