News story
DVLA encourages motorists to get a red vehicle registration certificate
Motorists who still have the old V5C blue vehicle registration certificate (logbook) are encouraged to swap it for a new red V5C for free.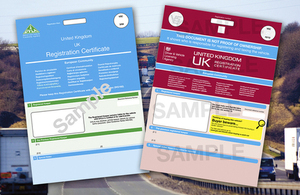 DVLA has now completed automatic roll out of the red vehicle registration certificate (V5C). It is now encouraging the keepers of any vehicles who still have an old style blue V5C to replace it with new a red V5C free of charge. This can be done by sending the original blue V5C with a covering letter to DVLA, Swansea, SA99 1BA. Or by telephoning 0300 790 6802, you will need to have the registration number, make and model of the vehicle and the document reference number of the blue V5C (this is the 11 digit number on the front of the V5C). You must be the registered keeper and there must be no changes needed to the V5C. DVLA also recommends that any buyer offered a second hand vehicle with a blue V5C gets the seller to replace the document with a red one from DVLA before they part with any money for the vehicle.
DVLA completed the automatic roll out in 2012. The new style red document was automatically issued when:
a vehicle was registered for the first time
an application was made for changes to an existing registration, such as a change of keeper or address
a vehicle was taxed or declared off the road
The new certificate was introduced following the theft of a number of defective blank certificates in 2006 after they had been rejected by DVLA and returned to the supplier. The aim was to reduce the risks to motorists of buying a stolen or cloned vehicle.
DVLA recommends buyers ask to see proof of ownership of a vehicle - such as a bill of sale - and check the vehicle's service records and a MOT certificate to assure themselves that the sale is legal.
Criminals try to legitimise the sale of a stolen or cloned vehicle with a forged or stolen registration certificate and they get away with it because many motorists believe that a V5C registration certificate is proof of ownership. It is important that motorists are aware that this is not the case.
GOV.UK has details giving motorists tips on what to look out for when buying a second hand car or search Google for: Buyer Beware DVLA.
Existing V5Cs will remain valid until they are replaced.
Published 22 May 2014
Last updated 18 June 2014
+ show all updates
Updated with instructions on how to apply for a red V5C.
First published.