News story
Remembrance service held in Afghanistan
The Duke of York and the Defence Secretary Philip Hammond joined service personnel on operations for a remembrance service at Camp Bastion.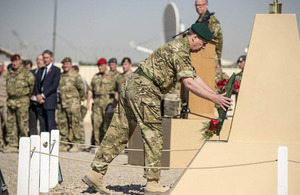 The Duke and Mr Hammond arrived in Afghanistan last night in time to participate in this morning's remembrance ceremony at Camp Bastion, the main UK operating base in Helmand province.
As the nation paid its respects to the fallen of the 2 world wars and other conflicts, Prince Andrew and Mr Hammond laid a wreath at Bastion's memorial to those who have made the ultimate sacrifice in Afghanistan since 2001.
They joined UK personnel from all 3 services and troops from other International Security Assistance Force (ISAF) nations based at Bastion to pay their respects in the traditional way.
They were also joined by Deputy Commander ISAF, Lieutenant General John Lorimer, and Commander Task Force Helmand, Brigadier James Woodham.
The Duke of York said:
This is the last opportunity to mark a Remembrance Sunday in the field like this under current garrison strength. It's important that we mark this by coming here, and by remembering all those who have lost their lives in this campaign, as we approach a period of transition.

I also reflect on my own personal experience of remembrance, in the sense that I lost friends and colleagues while serving in the Falkland Islands. I always think of those I served with, who never came back.
The Defence Secretary said:
We are not just remembering the millions of people who gave their lives in the 2 world wars but all those who have since died in the service of our country. I have had the opportunity to meet and speak with many of our service personnel today.

It is very important for younger generations to remember the bravery and sacrifice that has been made, and continues to be made today, by the men and women of our Armed Forces in Afghanistan.
The service took place at the vigil site and was led by the Reverend Martyn Gough, the UK's senior chaplain in Afghanistan. Musicians from the Royal Artillery Band played the Last Post and the Reveille and 2 artillery rounds were fired to mark the beginning and end of the 2-minute silence.
The parade was marshalled by Warrant Officer Class 1 Joseph Hegarty, who recited the Kohima Epitaph.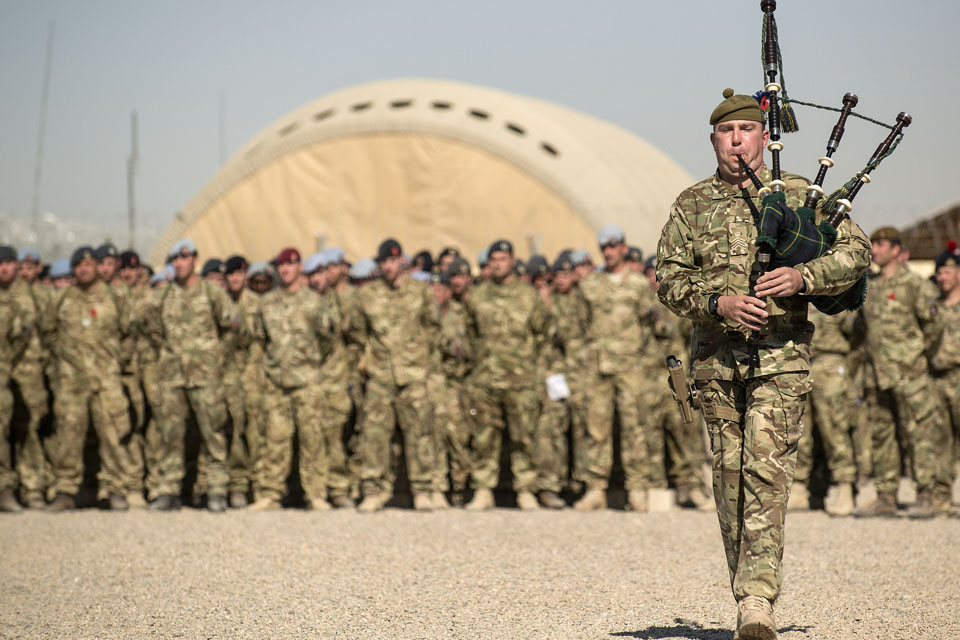 As well as attending the remembrance service, Mr Hammond has used his time in Helmand today to receive briefings from British commanders on the latest Afghan-led operations and progress made with the redeployment of equipment.
He also, for the first time, met with General Sayed Malook who recently took over as commanding officer of the Afghan National Army's 3/215 Brigade.
Personnel from 7th Armoured Brigade, the lead formation of UK troops in southern Afghanistan, also paid their respects across their area of operations, with those based at forward operating bases and patrol bases across Helmand conducting their own services.
Brigadier Woodham said:
We stand shoulder-to-shoulder here on Remembrance Day to recall colleagues and friends who have fallen in recent times and in previous years. To be serving on operations on this day adds to the poignancy and significance of the event.
Published 10 November 2013
Last updated 11 November 2013
+ show all updates
Edited for style
First published.