World news story
Duke of Kent lays wreath at Easter Rising memorial during visit to Ireland
The visit builds on positive momentum, generated by Her Majesty the Queen's historic visit in 2011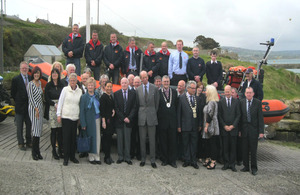 HRH the Duke of Kent has become the first member of the Royal Family to lay a laurel wreath at the Sigerson memorial to the 1916 Easter Rising rebels. This significant gesture was an echo of the wreath laid by HM the Queen at the Garden of Remembrance in Dublin in 2011 and builds on the good will that visit generated between the UK and Ireland.
Whilst at the cemetery His Royal Highness laid a poppy wreath at the Commonwealth War Graves commemorative walls which list the names of 208 Irish members of the UK armed forces buried in the cemetery.
The Duke also paid a visit to Glasnevin cemetery, where constitutional reformers, militant republicans, supporters and opponents of the Free State treaty and servants of the Crown occupy the same ground.
The Duke carried out these symbolic acts as part of a visit in his role as President of the Commonwealth War Graves Commission (CWGC). Since 2009, Glasnevin and the CWGC have worked together to identify and mark the graves of Irish men and women who lost their lives while serving in the UK armed forces in the two world wars. A number of graves were being acknowledged for the first time
The Duke later paid a courtesy call on President Michael D Higgins where conversation ranged widely from the state of the global economy, to the importance of promoting trade, and developments in Africa.
The visit ended with visits to four life boat stations in the counties of Waterford and Cork where the Duke, who is President of the RNLI, was received with warmth and enthusiasm.
Published 9 May 2013