News story
Duke of Gloucester visits Northern Ireland
Earlier today HRH The Duke of Gloucester arrived in Northern Ireland where he undertook a number of engagements in Co Tyrone and Co Down.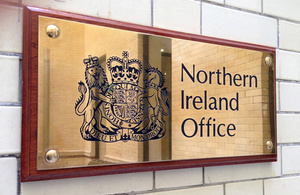 HRH visited Ranfurly House Arts and Visitor Centre in Dungannon. The Hill of The O'Neill and Ranfurly House Arts and Visitor Centre was officially opened in October 2014 and is a centre-piece at the heart of Dungannon town, containing a multi-media exhibition narrating the Hills importance in Irish & European history. The Royal visitor toured the Heritage Exhibition which depicts the story of the Flight of the Earls and the Planation of Ulster, and viewed a short performance by participants of the Arts & Disability Stakeholders Programme. He was also provided with an overview of the Ranfurly House Regeneration Scheme and ongoing EARLs' project.
Next stop was a visit to the Royal School, Dungannon to commemorate the school's 400th Anniversary. The Royal School Dungannon began life as one of five Royal Schools established by Royal Charter by King James 1. HRH met with staff and pupils and viewed a number of artefacts from the school's 400th Anniversary Exhibition, including a WW1 100th Anniversary book which records the personal stories of pupils who served in the war. He also had the opportunity to view the Dilworth plaque and the Nicholson Statue, as well as meeting with members of the "Uganda Team" who are planning a trip to Uganda in July.
Before departing, the school's Principal, Dr Burnett invited HRH to unveil a plaque to commemorate the visit and unfurl the new school flag.
The Royal visitor's final visit in Co Tyrone was to Greiner Packaging where he was given a company overview and met with staff and students involved in the 'Project School'
The Duke of Gloucester finished the day with a visit to the Somme Heritage Centre, Newtownards. The Somme Heritage Centre is an institution for the study and interpretation of Ireland's contribution to the First World War, with particular reference to the Battle of the Somme. The Museum opened in 1994 and became a fully accredited, independent museum in 2002. It received nearly 40,000 visitors in 2014. HRH has been President of the Association since July 2005.
Published 11 March 2015