Duke of Edinburgh presents 4 SCOTS with new Colours
The Highlanders were in Afghanistan when Her Majesty The Queen, the Colonel-in-Chief of The Royal Regiment of Scotland, presented new Colours…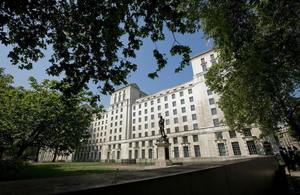 The Highlanders were in Afghanistan when Her Majesty The Queen, the Colonel-in-Chief of The Royal Regiment of Scotland, presented new Colours to the regiment's other six battalions in Edinburgh on 2 July 2011.
4 SCOTS' own ceremony took place on Saturday, 3 December 2011, as the battalion's old Colours were marched off by members of the Highlanders Association and their Pipes and Drums.
Colours are normally presented only every 20-25 years; probably only once in a soldier's career.
Colours are incredibly important to any British Army unit as they represent the spirit of the battalion. They consist of two large brocade and embroidery flags and were original carried into battle so that soldiers of a particular unit could see where the rest of their unit was located.
The infantry units of the British Army each have two Colours: the Queen's Colour, which is the Union Flag, and a Regimental Colour, which has the unit's battle honours inscribed on it.
Colours are no longer carried on the battlefield but are held in the greatest of esteem by both soldiers and officers. They are brought out on important parades and regimental occasions and are escorted by a 'Colours Party'. When new Colours are presented, the old ones are not destroyed but are laid up in a regimental museum, church or other military building of significance to the particular unit.
Ahead of receiving their new Colours, the soldiers of 4 SCOTS marked their recent return from operations in Afghanistan by leaving their permanent base in Germany to take part in a homecoming parade in Inverness.
Some 500 soldiers from 4 SCOTS deployed to Helmand province in April 2011 where they supported 3 Commando Brigade Royal Marines. They took on a variety of roles, including training and mentoring the Afghan security forces.
On Friday, 2 December, over 300 soldiers marched through the centre of Inverness, starting in the city's Glebe Street and finishing to a cheer at Inverness Castle. Hundreds of well-wishers, families and friends lined the route and applauded the troops as they passed by to the sound of the battalion's Pipes and Drums.
The Commanding Officer of 4 SCOTS, Lieutenant Colonel Alastair Aitken, said:
We are truly honoured to be invited by the city of Inverness to march in celebration of our return from Afghanistan. The level of support from the people back home during a demanding summer tour was very humbling and it is an important marker at the end of the tour for the local soldiers to be given the chance to show off in their home towns.
Published 7 December 2011