Duchess of Cornwall presents medals to medics returned from Afghanistan
The Duchess, who is Commodore-in-Chief of the Royal Naval Medical Services, presented Afghanistan medals to more than 200 men and women from all three Services at a parade on Friday at HMS Excellent in Portsmouth.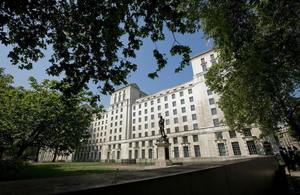 By far the greatest number of personnel came from the Royal Navy, which led the joint medical support for Operation HERRICK 14.
Some of the men and women on parade were receiving a medal for their first tour of duty, others had already completed several tours.
All the men and women were logistics and medical specialists who provided trauma care, first aid and logistics support to UK and coalition forces.
The medical support was not confined to the hospital in Camp Bastion - men and women from the Close Support Medical Regiment also accompanied 10,000 foot patrols across Helmand province, and provided medical care in the many forward locations.
Among those receiving medals was Commander Carol Betteridge from Queen Alexandra's Royal Naval Nursing Service. As commanding officer of the military hospital in Camp Bastion she was responsible for running the hospital and supervising all of its multinational staff.
During the six months of HERRICK 14, 374 people worked in the hospital, including regular and reserve personnel from 61 different units and clinical staff from the UK, USA, Denmark and Estonia.
Commander Betteridge said:
Running the hospital was a great challenge, involving people from 61 units, four nations, regulars, reservists and civilians. It was a great example of team work in action.
She added:
This is a very special day for us in the Naval Service, because the general public think of land operations in Afghanistan as being Army-specialised, but in fact the Royal Navy has been out there since it all began.
We can offer skills from land, to maritime, to land - it makes us unique. I was out there for seven months and it was a tremendously rewarding job.
Among her colleagues at the hospital in Camp Bastion was Chief Petty Officer Tony Thurgood, one of only a handful of highly-specialised Royal Navy biomedical scientists.
CPO Thurgood, from Hampshire, was responsible for the clinical testing and management of in-theatre blood supplies at the hospital in Camp Bastion. He said:
This was the third time I had been there, and every time I go the organisation gets bigger and more complex.
My job involved transfusion support for the US/UK and coalition forces, also for the Afghan forces and Afghan civilians. We do not differentiate - everyone receives the same high standard of medical care.
It's hard work, you're working every day, seven-days-a-week, and for that reason you could not deploy for more than a few months at a time.
He added:
I'm glad to be back now, not least because I'm First Lieutenant of the Warsash Sea Cadet Unit and will be able to take that up again. But I enjoyed the job out there very much - as a biomedical scientist, it is a fantastic job to have, and very rewarding to feel you are making a difference.
During Op HERRICK 14, the Navy also took command of the Joint Force Support Headquarters, under the leadership of Commodore Clive Walker.
These logistics specialists have deployed continuously to Afghanistan to provide the full range of functions without which the Services in theatre could not operate - things including catering, accommodation, food, supplies and postal services.
The parade was held on the quarterdeck of HMS Excellent, Whale Island, Portsmouth, and the Duchess arrived by helicopter.
After the medals had been presented, there was a short service led by Father David McLean, who was Chaplain to the Joint Medical Group on Op HERRICK 14.
The Band of Her Majesty's Royal Marines Commando Training Centre Lympstone was there in two roles, to provide the music and also on parade in their role as casualty handlers.
Other medals were presented by Second Sea Lord Vice Admiral Charles Montgomery, the Surgeon General, Surgeon Vice Admiral Philip Rafaelli, and Rear Admiral David Steel, Chief Naval Logistics Officer.
Surgeon Vice Admiral Rafaelli said:
During this past year members of the Defence Medical Services have continued to provide an excellence in medical care in Afghanistan that is at the very forefront of emergency casualty care, the envy of civilian colleagues, and delivering to a standard unsurpassed anywhere in the world.
The Royal Naval Medical Services comprise more than 1,400 trained men and women from all medical disciplines who provide medical care to the Royal Navy and Royal Marines both at sea and on land.
Primary care is provided through 21 medical centres ashore and 46 ships and submarines afloat.
Hospital care is provided in partnership with the NHS, primarily in the MOD hospital units in Plymouth, Portsmouth, Frimley Park, Northallerton, Peterborough and Birmingham.
Published 30 January 2012