Dstl - working with the best ideas in the world
Jonathan Lyle, the Defence Science and Technology Laboratory's (Dstl's) new Chief Executive, talks to Ian Carr.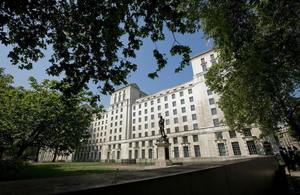 Defence Focus: What is the Defence Science and Technology Laboratory's role?
Jonathan Lyle: Dstl is a trading fund of the MOD. We exist to maximise the impact of science and technology for UK defence and security. We work with the best people and the best ideas in the world. Working with both large and small companies and with universities we develop battle-winning technologies.
We provide support to UK operations both now and in the future. Also, we look after some niche areas which are sensitive or operationally-critical, and where there are international connections which need to be handled within government.
DF: How do you deliver this expertise?
JL: We help our customers across government by giving advice to support business cases. We do research that informs their requirements, and we provide test and evaluation at the end of a project. Two years ago the management of the defence research programme was put into Dstl.
At first, industry were concerned by that as they thought we would eat all the pies and spend all the budget in-house. In fact, last year 60 per cent of the programme was spent externally.
DF: Who are your main customers?
JL: As a trading fund our money flows from customers in MOD and other government departments. Our annual turnover is about £550m, about £400m of that comes from the Defence Research Board's non-nuclear research programme which is owned by the Chief Scientific Adviser. There's a range of people in MOD who draw on that who come to us for help.
That includes policy, capability and operational customers in the UK, front line commands and the Surgeon General. Our next biggest customer is Defence Equipment and Support [DE&S]. Last year £90m of Dstl's income was for supporting DE&S by delivering specific tasks and projects. We also do a lot of work for Defence Intelligence.
DF: How do you help in the acquisition process?
JL: We support DE&S in many ways such as assembling evidence for decisions, evaluating new concepts, technology development, and supporting urgent operational requirements. In addition, we execute a research programme which is, in large part, exploited through MOD's equipment programme.
DF: Have you any examples of where that research has made a difference for acquisition?
JL: Open systems architectures on ships, aircraft and land vehicles have enabled cost-effective and rapid upgrades to platforms. Working with colleagues in Abbey Wood [DE&S] and with key vehicle suppliers in the Land area we have created what we call a generic vehicle architecture.
This means that any new electronic systems, whether they be defensive aid or surveillance systems, as they evolve and develop, can be plugged and played easily into the system through a standard software interface. That means you can get more rapid and effective upgrades which has a big effect on through-life costs and efficiency.
DF: How can research save MOD money?
JL: Last year we conducted a trial in Cyprus looking at ways to save fuel at forward operating bases (FOBs). The cost of getting a gallon of fuel to a FOB is huge. We mocked up an environment to be like Afghanistan.
We demonstrated that using a range of technology such as insulation, solar panels and other energy management techniques we could save 40 per cent of the energy used in theatre. Some of those things are deployable straight away, some will have to be developed.
DF: Has Dstl played a part in supporting operations?
JL: We have played a huge role supporting operations both in Iraq and in Afghanistan, and more recently in Libya. In Afghanistan there have been more than 350 separate theatre deployments by Dstl personnel over ten years to support in-theatre trials and provide scientific advice and operational analysis.
We are very proud of the direct support we have provided to the front line, working closely with Permanent Joint Headquarters [PJHQ].
DF: What sort of things do you get involved with?
JL: We apply scientific method to help address the challenges in theatre. We have worked on heat stress, looked at water requirements for troops on patrol, and force protection of vehicles and dismounted soldiers in open areas. We have developed approaches to counter sniper threats and the whole spectrum of the IED environment.
Our role is to give a very quick response to issues that arise in theatre. We look at methods, techniques and technologies to provide solutions. We have access to a lot of intellectual knowledge that we can call on.
We trial the ideas in theatre and if, as has happened so many times, they have merit, they are turned into operational requirements which we hand over in a managed way to our colleagues in DE&S.
But not all solutions are equipment, some of them are changes in tactics or procedure, which is again where our advice, based on operational analysis, can help the commander on the ground.
DF: How do you strike a balance between being reactive and proactive?
JL: We have priorities set for us by PJHQ. Our scientists in theatre have a 24-hour reach-back service to Dstl and to our suppliers in industry and in universities. The scientist says 'I have a problem' and this intellectual network is harnessed to hand back advice quickly.
In that sense it is reactive. But that reactive expertise is built on the proactive investment in the research programme, and the capability that has allowed us to build up over the years. The technology we have on the shelf is only there because five or maybe ten years ago someone put investment into the research programme.
I know that senior colleagues in MOD's London Main Building absolutely get that. Investment in people, technology networks and facilities is what sustains your capability in the future.
DF: So part of your role is looking at the technology of tomorrow as well as today?
JL: Yes, we deal with a huge spectrum, from supporting operations to looking at the far future. Our horizon-scanning team looks at technology that could be of advantage to us. The important thing is to try and spot the trends and use that to set your priorities for the programme.
In the medium term we have people looking at the equipment capability that will be needed from 2020 and beyond, and what systems and technology we will need to invest in to deliver that.
DF: How far ahead is the horizon you are scanning?
JL: That's the amazing thing about technology horizons, they can be very long or very short. People keep reminding me the next generation in computer technology is 18 months away, not 25 years. Horizon-scanning is about looking beyond the immediate.
DF: Does Dstl's success depend on the quality of its staff even more than most organisations?
JL: From the day I walked through the door two years ago as Director of the Programme Office, I was bowled over by the enthusiasm and professionalism of the workforce; everyone, not just the scientists and engineers, but across all the parts of the organisation.
It is important that we continue to invest in the workforce. I've been struck by how even quite recent graduates, because of the work they are doing, demonstrate a deep understanding of defence systems and how our Armed Forces work.
It is important that we have people who have the expertise to help the MOD with its challenges. That means not just understanding the technical side, but understanding the customer as well.
DF: Is it difficult to recruit the people you need?
JL: We are still attracting some fantastic graduates from top quality universities with top qualifications. We will have to be watchful as the economy picks up as recruiting and retaining these people will get harder.
I would say that those who choose to work for Dstl do so because of the quality and range of the work, the chance to work closely with the customer, and the fact that we recognise scientific excellence.
DF: So what's the biggest thing on your desk?
JL: Three things shape my job: austerity, current and future operations, and the transformation happening across Defence. With the empowerment of front line command, we will have to adapt the way we work with customers.
Some staff are worried that we will be doing less science. We will be doing shed loads of science, but we have to get better at programme and customer management. The relocation of staff from our Fort Halstead establishment in Kent is also one of the biggest things for me to deliver and in a way that treats the workforce fairly and properly.
DF: How do you keep these plates spinning?
JL: By having a fantastic team. It's a tremendous privilege to lead an organisation that plays such an important role in the nation's defence and security.
This article is taken from the April 2012 edition of Defence Focus - the magazine for everyone in Defence.
Published 2 May 2012