News story
Dstl pairs up with academia
Dstl is strengthening relations with academia as part of this year's Royal Society Pairing Scheme.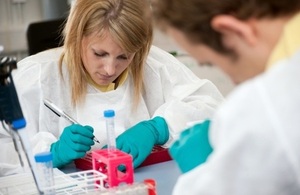 The Defence Science and Technology Laboratory (Dstl) is once again taking part in a unique pairing scheme run by the Royal Society – the UK national academy of science.
The Royal Society Pairing Scheme aims to strengthen relations between parliamentarians, civil servants and some of the best scientists in the UK. It is an opportunity for government employees to become better informed about science issues within academia, and for the universities to understand how they can influence science policy.
This year, Dstl is pairing up with five academic institutions – the University of Birmingham, the University of Bradford, the University of Liverpool, Sheffield Hallam University, and the University of Warwick. The pairings will look at a variety of subject matters, from 3D printing technology, chemical and biological research and decision support within the operational analysis area.
Dstl's Chief Technical Officer Andy Bell says:
Dstl is delighted to be taking part in this scheme – it is a chance to share and learn from each other, whilst developing new relationships, and I am very pleased that we have taken the opportunity this year to pair up with several academic partners.
More than 300 pairs of MPs, civil servants and scientists have been partnered up since the scheme was launched in 2001.
Sir Paul Nurse, President of the Royal Society says:
We live in a world facing increasing challenges that can only be addressed with a clear understanding of science. From climate change to outbreaks of infectious diseases, GM organisms to technology and security, our policy makers have to make decisions about issues that will affect the lives of all those in the UK and, in many cases, the global community. This means policy-makers and scientists have a responsibility to engage with each other to get the best possible scientific advice into public policy making.
The Royal Society Pairing Scheme is supported by the Government Office for Science.
Published 24 November 2014