Press release
Drop in to meet Ouse Washes team
The Environment Agency is inviting people who live close to the Ouse Washes flood storage reservoir to a drop-in event.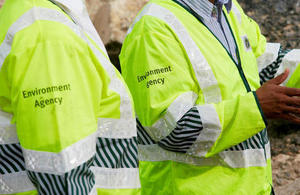 They will have the opportunity to see plans of proposed bank works and to speak to the project team about them.
Two events will be held, the first in Welney on Thursday 24 November at the new Welney Parish Village Hall and the second on Tuesday 29 November 2016 at Mepal Parish Village Hall, both from 11am to 5:30pm.
Joanna Cubbage, Environment Agency Catchment Engineer, said:
We would like to invite anyone who is interested in the project or has any concerns to come and find out more about what we are planning to do.
Investigation work was carried out in August 2016 in readiness for the main bank works to start in July 2017.
The project is being carried out by the Environment Agency with support from Middle Level Commissioners, Fenland District Council, Norfolk County Council, The Borough of Kings Lynn & West Norfolk Council, Cambridgeshire County Council, Natural England, Wildfowl Wetland Trust and the RSPB.
For further information about the project please contact Monica Stonham on 07577 470803 or email ousewashesprojectea@gmail.com
For more information on flood warnings and to find out how to reduce the impact of flooding on themselves, their families and properties, people should visit the Environment Agency website or call Floodline on 0345 988 1188 https://www.gov.uk/call-charges
ENDS
Editor's notes:
The Ouse Washes Flood Storage Reservoir is located on the River Great Ouse north east of Huntingdon in the Environment Agency's Cambridgeshire & Bedfordshire Area. It is registered under the Reservoirs Act 1975 and the Environment Agency is the Undertaker for the reservoir.
The Flood Storage Reservoir is approximately 30 kilometres long, varies in width between 200 metres and 800 metres and covers an area of approximately 1,900 hectares.
The Middle Level Barrier Bank and the Cradge Bank form the two dams of the reservoir both are approximately 30 kilometres long and have a maximum height of 5 metres. When the water level in the reservoir reaches the Cradge Bank's crest it is storing approximately 90,000,000 cubic metres of water above the surrounding ground. This is enough water to fill Wembley Stadium 22 times.
The Ouse Washes system was originally conceived more than 350 years ago. Its creation played a major role in turning the Fens into agricultural land. The Washes span more than 10 parishes and two counties.
As well as being one of the country's largest flood defence systems it is an internationally important nature reserve attracting visitors for wildlife and recreation. Its designations include SSSI, SPA, SAC and Ramsar.
As the washes are an internationally-important habitat, the work has to take place in the summer and early autumn to avoid disturbing breeding and over-wintering birds. The works will take two years to complete.
Published 21 November 2016