News story
Driving the Mastiff in Helmand
In the past week soldiers from the 2nd Royal Tank Regiment have used their Mastiff vehicles to escort veterinary teams and engineers around the dangerous Loy Adera region of Helmand province to assist the Afghan Government in looking after its people.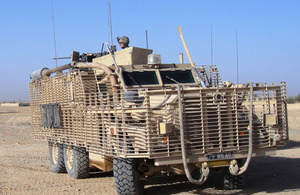 The Tankies, as the soldiers are known, are deployed to Helmand to provide mobile fire power to fellow soldiers from The Royal Highland Fusiliers, 2nd Battalion The Royal Regiment of Scotland, around Lashkar Gah, the capital of Helmand province. They undertake this role using the British Army's Mastiff armoured vehicle.
A member of the unit, Trooper Ashley Street from Plymouth, has been driving in Afghanistan since late September and explains some of the difficulties that he has encountered. He said:
It's not like driving in Plymouth. There is no driving order here at all and no right of way; at roundabouts people go round right or left - it's madness!
But, out of town, the traffic stops being the big issue. Trooper Street added:
The dust can be a real problem, sometimes you have to drop back because vision gets limited - sometimes down to a metre.
Outside town, the roads are packed earth or loose shingle but the Mastiff handles these well. It's got very good grip and it's not as sluggish as I thought it would be for such a large vehicle.
Away from the tracks the going is difficult with steep banks and obstacles, but Trooper Street says the skills for driving Mastiff are just the same techniques he employs when off-roading back in the UK.
Trooper Street is a Land Rover enthusiast and says that his passion for 'green laning' has definitely helped him adjust quickly to the conditions on tour.
The Mastiff has a three-man crew consisting of a driver, gunner and commander. The crew work as a close-knit team with communication being the key to success. The driver has blind spots which would make manoeuvring difficult if the commander and gunner weren't there to assist.
The Tankies are used to driving-by-teamwork because, on the Challenger 2 tanks on which they are trained, the driver can see nothing except the 45-degree angle to his front. Trooper Street explained:
When reversing, the guy on top cover just directs you back. This takes significant skill and practice to achieve but also faith in each other's abilities.
Trooper Street and his colleagues from the 2nd Royal Tank Regiment will cover most of Helmand in the weeks ahead and see a huge range of driving conditions. The challenge has just begun.
Despite the Mastiff having one more axle than the Land Rover Discovery sitting on his drive at home, Trooper Street says the two vehicles handle in a surprisingly similar way:
Without the add-on bar armour, Mastiff is only about a foot or two wider than my Land Rover. It also has the same feel - a bit wobbly but you know it won't roll.
Published 12 January 2011