World news story
Driving investment: Business Minister makes auto-sector visit to Japan
Minister of State, Business, Innovation and Skills (BIS) visits Japan to strengthen UK ties with the Japanese automobile sector.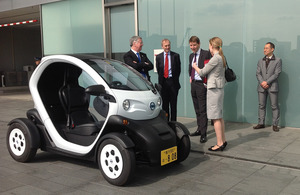 Mr Michael Fallon, Minister of State, Business, Innovation and Skills (BIS), has departed Japan after a visit to cement relations with Japan's 'Big 3' automobile manufacturers and pursue further investment opportunities from the Japanese automotive supply chain.
During his three day visit, Mr Fallon called on the top management of Nissan, Toyota and Honda – the UK's three major automotive investors.
Mr Fallon said:
Relations between Japan and the United Kingdom are particularly strong and friendly – nowhere more so than in the automotive industry, As the strategic relations minister for the UK's three major automotive investors, it's important that I fully understand their investment ambitions and their future plans for the vehicles they intend to manufacture in Britain.
Mr Fallon also chaired supply chain round table discussions in both Nagoya and Tokyo, following up on a global meeting of supply chain companies which the Minister hosted in London in December to capitalise on future investment opportunities highlighted by the work of the UK Automotive Council.
I'm also here to promote opportunities for other suppliers from Japan to help to shorten supply chains in Britain, perhaps by investing in our country directly and taking advantage of some of the low-cost opportunities there are now in what is a very successful industry. We want to ensure that all kinds of companies in Japan fully understand that Britain is open for business; that the government is committed to rebalancing our economy by encouraging more manufacturing; and to take full advantage of the new technologies that are emerging.
Watch the video below to hear more from the Minister on UK-Japan automobile relations, recorded at the British Embassy Tokyo and available with Japanese subtitles.
Published 25 February 2013