Driving global economic growth: UK strategy for trade and investment
The UK Government has today published its strategy for trade and investment to drive global economic growth.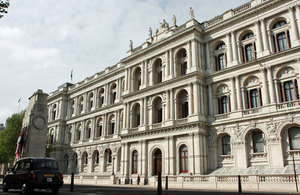 Included in the strategy are a range of actions to help secure a strong, sustainable and open economy that benefits business both domestically and internationally. This means:
Strengthening the multilateral trading system:
Increased engagement within the European Union, World Trade Organisation (WTO), G20 and Organisation for Economic Co-operation and Development (OECD)

Working to finalise the Doha round of trade negotiations delivering a £110bn boost per year to the global economy - 2011 is the make or break year;
Working with partners to help develop ideas for strengthening the WTO, and address the shifting challenges of global trade and investment.
Enabling developing countries to benefit from trade and investment:
Working with developing countries to ensure that global trade rules support their needs

Promoting greater market access for Least Developed Countries

Implementing ambitious bilateral aid programmes that promote trade and regional integration, particularly in Africa, where the UK is launching an Africa Free Trade Initiative
Maximising and realising the opportunities for UK businesses to trade and invest:
Resisting protectionism, championing open markets, and pushing back the remaining trade and investment barriers within the European Single Market and the wider world.
Pursuing an ambitious programme of EU Free Trade Agreements with key trading partners including India, Canada, Singapore, the South American Mercosur countries (Argentina, Brazil, Paraguay, Uruguay) and hopefully also Japan;
Using the FCO and UKTI networks overseas to support British business, encourage greater inward investment in the UK,
Prime Minister David Cameron said:
"Strong trade policies and strong trade outcomes are of the utmost importance for our economy, helping to create jobs and build sustainable growth. That is why, since day one, we have put the promotion of trade at the heart of our foreign and economic policy. Harnessing the resources of every part of government; changing mindsets, sharpening our focus and doing all that we can to bolster UK trade and investment.
"The UK has a rich and diverse trade history - but we cannot be complacent. We need to ensure business, especially our SMEs, have all the tools they need to flourish, that we strengthen and improve our relationship with trade partners around the world, that we fight protectionism and ensure poor countries can benefit fully from free and fair trade.
"It is this Government's total and steadfast dedication to create the best environment to boost trade and secure investment. That is our commitment to UK business and that is what this White Paper intends to deliver."
Foreign Secretary William Hague said:
"This is an important milestone in our journey towards rebuilding the world economy. The White Paper is the Government's initial statement to our trade and investment partners around the world on how we want to work together for mutual benefit and sets out the overwhelming case in favour of openness as the route to prosperity.
"The FCO has crucial role to play in enabling business to seize the opportunities of the networked world and in encouraging worldwide economic growth and prosperity."
The Trade White Paper is the UK's declaration that it is 'open for business'. With a strong history as a trading and investment nation, it is the world's sixth largest exporter and third largest investor in foreign markets. The UK, with its international partners, has a real opportunity to drive global change.
This means working together with both developed and developing countries, and recognising the needs and demands of different markets through open dialogue. In turn, this will improve the financial outlook of poorer countries whilst pushing for increased trade across the world.
Trade and Investment Minister Lord Green said:
"Our new Trade and Investment plan will change how we work with the wider world: a world that is changing by the day. It will enable us to help UK move into overseas markets and it will strengthen our relationships with our neighbours.
"By working together and sharing knowledge we can be stronger and better able to take on the challenges of a modern, global world."
UK Government launches trade and investment strategy
Published 9 February 2011