Press release
Drivers urged to take longer to look for motorcyclists
Motorcycle safety campaign launched.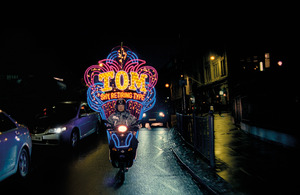 Car drivers are being urged to see the person behind the helmet and take longer to look for motorcyclists in the latest THINK! motorcycle safety campaign, launched today (11 March 2013) by Road Safety Minister Stephen Hammond.
The £1.3 million campaign, timed to coincide with the anticipated Spring increase in motorcyclists' return to the roads, encourages drivers to take longer to look for motorcyclists and think about the biker, not just the bike.
Stephen Hammond said:
Motorcyclists account for just 1% of traffic but 19% of deaths on Britain's roads and 30 bikers are killed or injured in accidents at junctions every day. I am determined to reduce this terrible toll.

That is why we are funding this THINK! campaign to remind drivers to look out for motorcyclists - particularly at junctions - and to see the person behind the helmet not just a motorbike.
The campaign was informed by accident statistics, which show that motorists failing to look properly is a factor in half of all accidents where motorcyclists are killed or seriously injured at a junction; and wider research showing that drivers are more likely to notice motorcyclists on the roads if they know a biker themselves.
Notes to editors
In 2011, 5,609 motorcyclists were killed or seriously injured with 74% of these occurring in accidents involving another vehicle. 69% of these casualties happened at junctions. The number of accidents increases significantly during March and April as improved weather encourages more motorcyclists onto the road.
The THINK! campaign targeting motorists will run from March to May with messages delivered through radio advertising and in petrol stations when the call to action is more closely linked to the behaviour THINK! is seeking to change. Wider awareness will be generated through TV video on demand advertising, targeting younger drivers in particular.
Visit the THINK! website at http://think.direct.gov.uk/.
See the department's annual road casualty statistics of 2011 (PDF, 12.6 MB) for further information.
Press enquiries: 020 7944 3066
Out of hours: 020 7944 4292
Public enquiries: 0300 330 3000
Published 11 March 2013