Press release
Drivers reminded of overnight M56 closures this weekend
Drivers using the M56 between junctions 5 and 6 around Manchester Airport are being reminded the westbound and eastbound carriageways will be closed overnight on Saturday night and Sunday night respectively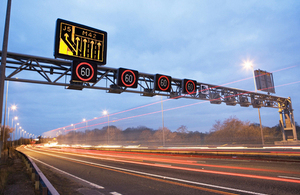 The westbound carriageway will be closed at junction 5 from 10pm on Saturday night (22 November) and will re-open by 3am on Sunday morning (23 November).
Drivers needing to access the airport can do so as normal at junction 5 but drivers heading further afield towards North Wales will need to use the M60, M62 and M6 to re-join the M6 at junction 9 at Lymm.
The eastbound carriageway towards Manchester will be closed at junction 6 on Sunday from 10pm until 3am on Monday morning (24 November).
Drivers heading towards Manchester Airport will need to take a short diversion from junction 6 as the normal access from junction 5 will be closed.
Drivers seeking to travel beyond junction 6 towards Manchester will need to leave the M56 at junction 9 at Lymm and use the M6, M62 and M60 instead.
Manchester Airport is advising customers to leave enough time to get there.
The closures are being made to safely remove narrow lanes and a 50mph speed limit installed in the summer as part of a £5.5 million bridge replacement scheme.
The new bridge will be installed in February with a full weekend closure of the M56 between junctions 5 and 6.
More information on the project is available on the Highways Agency's website.
Further details on this weekend's work is also available.
General enquiries
Members of the public should contact the Highways Agency Information Line on 0300 123 5000.
Media enquiries
Journalists should contact the Highways Agency press office on 0844 693 1448 and use the menu to speak to the most appropriate press officer.
Published 20 November 2014