News story
DVSA wins an international road safety award
The Driver and Vehicle Standards Agency (DVSA) has won an international road safety award for its work improving load security.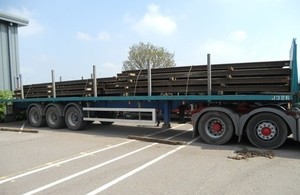 The Prince Michael International Road Safety Award recognises DVSA's commitment to improving the security of loads.
DVSA has been working with the transport industry to develop a training, education and enforcement strategy including a:
training package for DVSA enforcement staff, featuring an innovative load security matrix
load security guidance working group
guide for operators, including videos
DVSA Interim Chief Executive, Paul Satoor, said:
I'm extremely pleased that our work to educate drivers and operators on the importance of load security has been recognised in this way.

DVSA will continue to take action against those who transport unsecure loads as they are putting themselves and other road users at risk.
HRH Prince Michael of Kent said:
At the heart of the really successful programmes whether they be large or small lies partnership. It is rare that a successful intervention can be delivered without bringing together a number of organisations or agencies.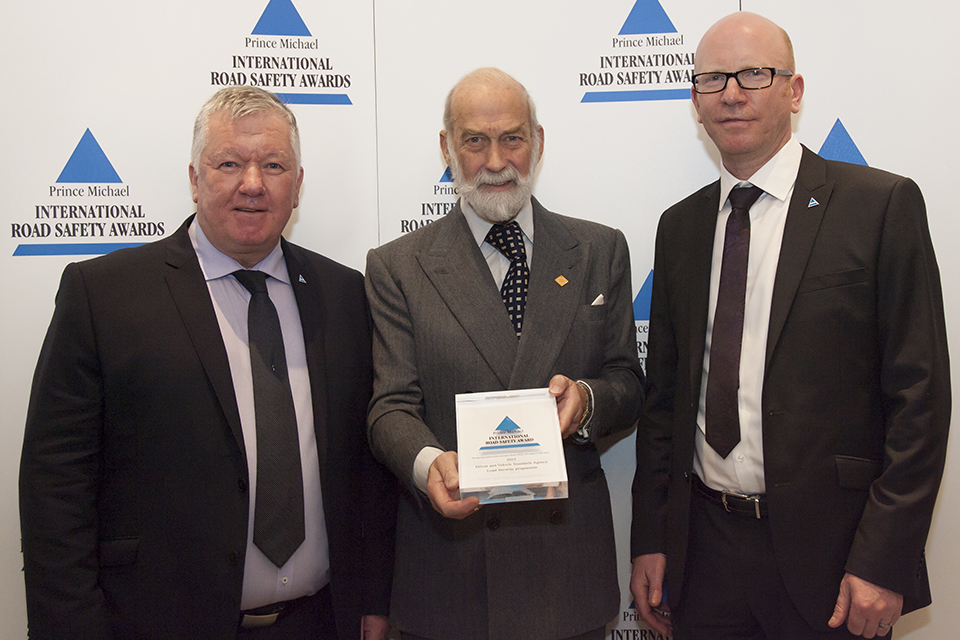 The judges said that DVSA's work on improving load security was:
based on sound research
developed in close partnership with the haulage industry
a fine example of enforcement with education
The Prince Michael International Road Safety Award
The Prince Michael International Road Safety Awards recognise achievements and innovations which will improve road safety.
Each year the most outstanding examples of international road safety initiatives are given public recognition through the scheme.
Support from the transport industry
The training, education and enforcement strategy was developed in partnership with a range of organisations including:
trade associations
the police
large and small haulage companies
Highways England
Health and Safety Laboratory
Freight Transport Association (FTA) Head of Engineering, Andy Mair, said:
FTA is delighted that DVSA has received the Prince Michael Road Safety Award.

Having worked with the association and other industry stakeholders in creating the road securing guide, it is clear how important the document is to assist operators in the transport and supply chain industry to understand methods of securing loads, and to improve compliance with load securing standards.

FTA firmly believes that the level of compliance for load securing has improved as a result of this work which is a positive step towards road safety, and the easy to understand guidance has played a part in this.

Guidance is a result of collaboration of industry, and this award is clear recognition of how it has changed the way organisations in our sector work. Congratulations DVSA.
Road Haulage Association (RHA) Head of Technical Services, Ray Engley, said:
The RHA congratulates DVSA on being awarded the Prince Michael Road Safety Award, for working with the RHA and other industry stakeholders in creating robust easily understood guidance on load securing for road vehicles.

The importance of the document should not be understated it will provide assistance to the whole distribution chain from consignors through to operators and drivers in their understanding of the importance and methods for load securing; improving compliance with both requirements and standards

The level of compliance within the industry around load securing has improved considerably due to the work undertaken by industry stakeholders and DVSA positively improving road safety.

This simple easily understood guidance will help to further improve this position changing the way the road transport industry perceives load securing now and in the future. Congratulations DVSA on producing this long overdue guidance.
Reducing the impact on UK roads
DVSA hopes its work to improve the security of loads will help to reduce the time people spend stuck in traffic queues.
In 2014, Highways England reported 325 incidents of vehicles shedding their loads with the average lane impact of 86 minutes.
Published 8 December 2015