Press release
Drink driving: The hidden cost of a humble pint
£50,000 pint of beer revealed as part of government's latest THINK! campaign.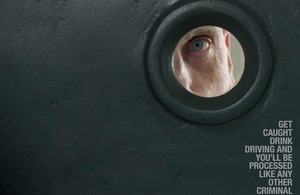 A £50,000 pint of beer was unveiled in London today (1 March 2013) as part of the government's latest THINK! campaign highlighting the consequences of a drink-drive conviction.
The Institute of Advanced Motorists has calculated the personal financial cost of drink-driving for the first time, pricing it between £20,000 and £50,000. The calculation reflects the fines, legal costs, rise in insurance premiums and possible job losses faced by those who are convicted.
The costly pint, housed in a protective glass case and surrounded by security guards, was revealed in Leadenhall Market by Road Safety Minister Stephen Hammond.
Stephen Hammond said:
It might only look like a humble pint of beer, but it could end up costing much more than a few quid – in fact it comes with an eye-watering hidden cost if it pushes you over the limit.

Most people know not to drink and drive but a small number still do, which is why we are highlighting the consequences of a drink drive conviction through our THINK! campaign.

Anyone thinking of drinking and driving should be without any doubt – if you are caught driving over the limit you will face a heavy court fine and lose your licence – you could even go to prison.
The latest £1.68 million THINK! campaign will see the 'Consequences' drink drive television and radio adverts being aired over the Spring as well as online activity. The television advert features a barman morphing into a range of characters, including a policeman, a magistrate, an employer and a car dealer, to show the potential consequences of drink driving.
Chief Constable Suzette Davenport, from the Association of Chief Police Officers, said:
Drivers need to be aware there are several ways for police to catch drink drivers, so it's not a matter of if you get caught, it's when.

Over the Christmas period last year police breathalysed more than 1,000 extra drivers compared to the previous year. As a result of this, there are drivers who never thought they would be caught but are now facing fines, driving bans and a criminal record.
Simon Best, IAM Chief Executive, said:
The total personal cost of a drink driving conviction was a lot more than we expected. £50,000 is an awful lot to pay for just 1 more drink.

On top of the up-front financial costs, the long-term impact on earnings can be serious if you factor in the stigma of a criminal record. Alcohol affects everyone differently and your limit can change depending on a large number of factors - it's best to make it none for the road.
Notes to editors
More than 51,000 people were convicted of drink or drug driving in 2011.
The £50,000 Pint is part of THINK! the Department for Transport's road safety campaign.
The IAM has calculated the cost of a drinking and driving conviction at £50,800 as follows:
£5,000, the maximum fine (source: DfT)
£4,800 in legal fees, the industry average charged by solicitors for a not guilty plea at trial (sourced by IAM)
£8,000, the increase in insurance fees based on the average premium for a young man aged between 20 and 24 calculated over an 11-year period, the amount of time a drink driving conviction remains on your driving licence (source: moneysupermarket.com)
£33,000 in lost earnings, based on a period of 15-months, the mean driving disqualification after conviction, for someone earning the average full-time salary of £26,500 (sources: ONS and DVLA)
The Institute of Advanced Motoring is the UK's leading independent road safety charity. It believes that our roads can be made a safer place by improving the standards of the people who are using them. With over 50 years of experience, passion and insight, the IAM is uniquely positioned to help improve the skills and understanding of UK drivers, riders and cyclists.
Press enquiries: 020 7944 3066
Out of hours: 020 7944 4292
Public enquiries: 0300 330 3000
Published 1 March 2013