Dressed for Success: breaking fashion rules in the UK
In a Foreign Office film launched today, Iraqi-born fashion designer Reem Alasadi talks about how Britain's multicultural society allows creativity to flourish within the fashion industry.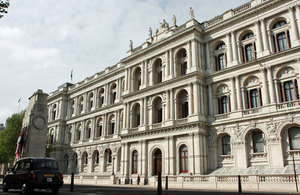 The film is one of the 'See Britain through my eyes' series featuring individuals from abroad talking about their experiences of modern Britain in the run up to the London 2012 Olympic and Paralympic Games. The film is being released to coincide with London Fashion Week. Watch Reem's story below.
As a British Arab, Reem believes the UK leads the way in the fashion industry, inspiring the world with its creativity and innovation. She says, "The boundaries are there to be broken - I probably wouldn't have done this anywhere else but this country…in the UK, you just know you are free." Reem says her ability to express herself through her designs is testament to being part of a British fashion industry that knows no bounds.
Reem highlights that the UK has struck a balance between recognising its heritage and traditions, and pushing the boundaries of modern design. She believes the British fashion world has given her a stage on which to flourish, and this has made a significant contribution to her success.
Reem has received accolades at both the London Fashion Week and Japan Fashion Week in Tokyo. She exploded onto the London Fashion Week in 2009 in dramatic style, becoming the first designer to showcase two seasons on one runway - an ambitious move applauded by the high profile fashion aristocracy in attendance. In 2010, she was the first non-Japanese Designer to show at the Tokyo event.
Born in Iraq, Reem moved to London aged ten. Her passion for fashion design was obvious from a young age as she chased her dream to launch a self-titled design label. By the age of 16 she was working for fashion brand Karen Millen, and was later offered places at the London College of Fashion and Central Saint Martins College of Art and Design. By the time she was 21 she had set up her first fashion label.
Since then, Reem has worked with British designers such as John Richmond, Robert Cary-Williams and Stella McCartney. She has a devoted following in Japan, owning a showroom in Tokyo and regularly collaborating with major Japanese department stores.
Published 17 February 2011