News story
Dramatic footage released of coastguard rescue teams rescuing cragfast climber in force 9 gale
Two coastguard rescue teams carried out a difficult and complex rescue in a force 9 gale, after a climber became cragfast on cliffs at Fairhead, near Ballycastle, Northern Ireland.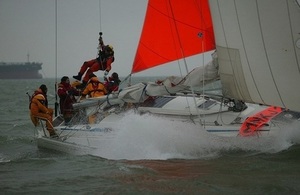 At about 11.30pm yesterday (Tuesday 28 September) the UK coastguard received a report from a local coastguard rescue team member that a climber needed rescuing after becoming cragfast whilst climbing the cliff.
Ballycastle and Coleraine coastguard rescue teams and Redbay RNLI all weather lifeboat were sent to the scene along with the UK Coastguard search and rescue helicopter based at Prestwick. The Northern Ireland ambulance service was also informed of the incident.
Footage of this dramatic rescue was taken by the rescue helicopter.
Published 11 October 2016