News story
Dragons' Den investor Piers Linney joins Cabinet Office SME Panel
Piers Linney, co-CEO of Outsourcery plc, has joined the Cabinet Office SME Panel, which advises on small and medium business issues.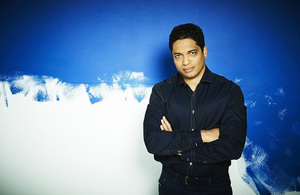 The SME Panel, formed in 2011, advises the Cabinet Office on work to help more small and medium enterprises (SMEs) to win public sector contracts and other SME-related issues. The panel consists of a broad range of micro, small and medium business leaders across a number of industry sectors.
Piers Linney, co-Chief Executive Officer of cloud service provider Outsourcery plc, is also currently a panel member on BBC's Dragons' Den. He will provide further insight on the view from the IT sector.
On his appointment to the board, Piers Linney said:
The public sector provides a massive opportunity for SMEs, which are the engine of the economy. The aim of having SMEs account for 25% of direct and indirect central government expenditure is within reach and the G-Cloud framework in particular is a world leading example of how IT procurement should evolve to drive value for money and broaden supply bases to introduce more competition and innovation.

However, it is important that such initiatives continue to adapt and that feedback is heard and acted upon and I look forward to adding our perspective.
Stephen Allott, the Crown Representative for SMEs said:
The SME panel has been doing a fine job in acting as a sounding board for Cabinet Office policies and offering excellent advice at how best to make it easier for smaller firms to pitch for and win government business. Piers will offer the board further experience from the IT sector and we look forward to his input.

Government is now getting huge value from SME IT suppliers in particular. The G-Cloud Cloudstore is the standout success in this regard with spend of over £190 million to date – 56% of which has gone to SMEs.
The IT sector is one of the real success stories for government in its aim of helping more small businesses win public sector contracts. Jadu, a Leicester based SME, won a contract with the Ministry of Justice through G-Cloud to develop a digital service for employment tribunals. The company has estimated that this digital service will save the taxpayer £74 million and the project will be implemented a full year earlier than with the alternative supplier.
Cabinet Office SME Panel members
| | |
| --- | --- |
| Steven Anderson | Smith & Milton Design Agency |
| Mark Bowers | Redfern Travel Ltd |
| Tim Campbell | Bright Idea Trust |
| Pamela Cook | Infoshare Ltd |
| Tony Cunningham | Eliesha Training Ltd |
| Geoff Davies | WWAM Writers Ltd |
| Dan Gregory | Social Enterprise Coalition |
| John Harvey | IRIS Consulting |
| Jon Harvey | Jon Harvey Associates Ltd |
| Clare Hill | Sysdoc Ltd |
| Trevor Hursthouse | Lingwood Management Services |
| David Johnston | Applied Network Solutions Ltd |
| Steve Kingan | Nexor Ltd |
| Sarla Langdon | Markmaid Marketing |
| Jonathan Lewis | The Live group plc |
| Piers Linney | Outsourcery |
| Walter Menteth | AndArchitects |
| Sara Murray | Buddi |
| Manuel Nogueira | AndArchitects |
| David Pearson | Premier Partnership |
| Bhagiyash Shah | Prederi |
| Elizabeth Vega | Informed Solutions |
| Sue Waller | Knowledge Powered Solutions |
| John Young | Edenvale Young Associates |
Published 28 July 2014