Dragon enters her new home of Portsmouth
The 7,500-tonne vessel has today been formally accepted from shipbuilder BAE Systems and will now undergo a series of tests before being declared…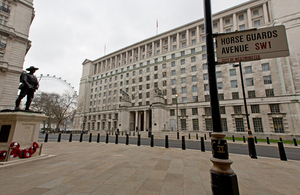 The 7,500-tonne vessel has today been formally accepted from shipbuilder BAE Systems and will now undergo a series of tests before being declared ready for operations.
Armed with the world-leading Sea Viper missile defence system, she is able to defend against multiple attacks from even the most sophisticated aircraft and anti-ship missiles, simultaneously approaching from any direction and at supersonic speeds.
Armed Forces Minister Nick Harvey, attending today's ceremony to mark Dragon's 'acceptance off contract', said:
This is another success for the Type 45 programme and further evidence of how we are investing in cutting-edge equipment which will form part of Future Force 2020.

Dragon is the fourth of a class of six ships which together will form a formidable fleet and will play an important part in allowing the Royal Navy to protect our interests around the world.
Dragon, which is affiliated to the city of Cardiff, is one of the six new Type 45 warships being built for the Royal Navy. She was launched in November 2008 at Govan shipyard in Glasgow and has since been undergoing sea trials in Scottish waters.
Head of Destroyers, Commodore Stephen Braham, said:
Remarkable progress is being made to date on the Type 45 Programme. Combining an all-electric power and propulsion system and a world-class weapons system, the capabilities of Dragon, like those of her in-service sister ships HMS Daring, HMS Dauntless and HMS Diamond, represent a step-change for air defence in the UK, and will ensure that the Royal Navy remains one of the most powerful maritime forces in the world.
2011 has been a successful year for the Type 45 project with this latest achievement for Dragon coming less than two months after entry into service of HMS Diamond, the third ship in the class.
Published 31 August 2011