News story
Welsh Secretary publishes draft Wales Bill
Legislation set to deliver ambitious package for Wales.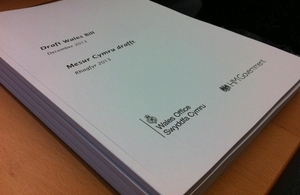 Secretary of State for Wales David Jones has today (18 December) published a draft Wales Bill to enable devolved governance in Wales to become more accountable.
The draft Bill follows the publication of the UK government's response to the Silk Commission's first report on the devolution of tax and borrowing powers to the National Assembly for Wales and the Welsh government.
In its response, the UK government agreed, in whole or in parts, to almost all of the recommendations.
As a result the draft Bill will:
enable the Assembly to legislate about devolved taxation, specifically stamp duty land tax and landfill tax
provide for a referendum in Wales on whether an element of income tax should be devolved
allow the Assembly, subject to a vote in favour in a referendum, to set a Welsh rate for the purpose of calculating the rates of income tax to be paid by Welsh taxpayers
extend the circumstances in which the Welsh Ministers can borrow in the short term to manage the Welsh government's budget, and grant the Welsh Ministers new powers to borrow for capital expenditure
These changes will make the Assembly and the Welsh government more accountable to people in Wales for raising the money they spend.
The draft Bill will also:
extend Assembly terms permanently from 4 to 5 years, making it less likely that Assembly elections will coincide with Westminster parliamentary elections in future
remove the prohibition on candidates in Assembly elections standing in a constituency and on the regional list
stop "double jobbing", by preventing Assembly Members from also being MPs
Speaking after the publication, Welsh Secretary David Jones said:
This draft legislation which we have published today will enable devolved governance in Wales to become more accountable and better able to support economic growth in Wales.

I am keen to drive forward these reforms, which is why I have published this bill so quickly. This will enable pre-legislative scrutiny to take place in the New Year.

Through this Bill the government will deliver an ambitious package for Wales. However, it will be up to the Welsh government to seize the opportunity to drive forward Wales's economic growth with the powers being offered today.
A copy of the draft Wales Bill can be found here
The Written Ministerial Statement can be found here
Published 18 December 2013