Dr Liam Fox appointed Secretary of State for Defence
Dr Liam Fox has been appointed as the new Secretary of State for Defence today, Wednesday 12 May 2010.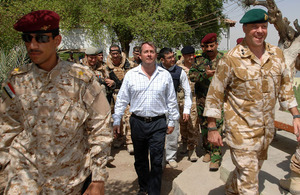 Dr Fox has been the MP for Woodspring (renamed North Somerset for the 2010 May General Election) since 1992 and was appointed as Shadow Secretary of State for Defence in December 2005. He has visited the UK's Armed Forces in Iraq and Afghanistan.
Dr Fox was born and raised in East Kilbride, Scotland, and attended the local comprehensive school, St Bride's High School, before going on to study medicine at the University of Glasgow.
He worked as a GP before becoming a Member of Parliament.
Published 12 May 2010