Dr Liam Fox announces new DIT non-executive board members
The new non-executive board members announced today (17 November) bring a wealth of experience to the department.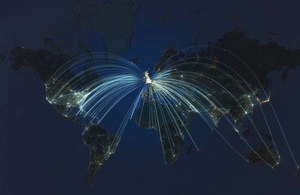 Four new Department for International Trade (DIT) non-executive board members (NEBMs) with extensive business and policy experience, were announced today by International Trade Secretary Dr Liam Fox. The new members are:
Director General of the Institute of Directors, Simon Walker, announced as lead non-executive board member
Julie Currie, Chief Financial and Reporting Officer at the Lloyds Bank Foundation, will chair the Audit and Risk Committee
Dr Pippa Malmgren, founder of DRPM Group, will provide an independent voice to the department
Noel Harwerth, outgoing Chair of GE Capital Bank Europe, will join the UK Export Finance Board as Chair, and will also attend the DIT Departmental Board
After facing strong competition from over 180 candidates, Simon Walker, current Director General of the Institute of Directors, will take on the role of lead non-executive board member. He will be joined by Julie Currie, who will chair the Audit and Risk Committee, and Dr Pippa Malmgren. They will sit on the DIT Departmental Board and give advice to shape the department and the UK's trade agenda.
UK Export Finance (UKEF) has appointed Noel Harwerth as the Chair of their board. Noel will also attend the DIT Departmental Board.
International Trade Secretary, Dr Liam Fox said:
In promoting the UK as a place to trade and do business with, it's important that we are building on our department's expertise and bringing in the best talent.

I'm delighted to welcome our new non-executive board members, whose extensive business knowledge, experience of global trade and corporate governance experience will help us shape the department and forge the UK's trade agenda. The competition was extremely strong and our successful candidates are absolutely outstanding.
These highly experienced appointments bring further trade, business, financial and international policy expertise to the DIT Departmental Board. The new board members will all be in place by January 2017 and will work closely with the Secretary of State and ministerial team to assist the new department in delivering an effective long-term strategy for the UK's trade policy, promotion of UK exports and investment; and take-up of UK export finance.
This is a significant milestone for the department and also for UK government as, for the first time in a central government department, the majority of its NEBMs are women.
Appointee statements
Simon Walker said:
As Britain seeks to forge a new place in the world, ensuring our businesses are able to trade easily across the globe will be central to our economic success. The views of companies, employees and the wider community all need to be heard as new arrangements are established with trading partners in Europe and further afield.

The Department for International Trade has an essential role to play in pulling down barriers to trade in both goods and services and I am extremely pleased to be able champion free trade as lead non-executive board member.
Julie Currie said:
I am delighted to have been invited to join the board for the Department for International Trade at such pivotal times. I look forward to being part of the team entrusted with ensuring the UK's continued status as one of the world's great trading nations, offering a safe and stable trading environment, and encouraging global trade liberalisation and reform.
Dr Pippa Malmgren said:
It is a privilege to assist in the effort to ensure Britain has the best economic performance it possibly can. Economic well-being requires an open, free global trading environment, which I'll do my best to help foster.
Noel Harwerth said:
I am excited to be taking on the role of Chair of UK Export Finance's Board at a very important time for UK trade. UKEF is recognised as one of the world's most innovative and flexible export credit agencies and I look forward to helping it realise its ambitious mission to ensure that no viable UK export fails for lack of finance or insurance.
Notes to editors:
Simon Walker, Dr Pippa Malmgren and Julie Currie will take up their position from November 2016. Noel Harwerth will take up the role of Chair of the UKEF Board from January 2017.
Simon Walker will take on the role of lead NEBM and also chair of the Nominations Committee. Simon brings with him a wealth of experience, most recently as the outgoing Director General of the Institute of Directors. He has also been CEO of the British Private Equity and Venture Capital Association, and Director of Corporate Affairs at both Reuters and British Airways. He is currently the Chairman of the Global Network Directors' Institutes, the umbrella body representing company directors worldwide.
Noel Harwerth will, from 1 January 2017, take on the role of Chair of the UK Export Finance Board. Noel has a long career in the finance and mining sectors with significant experience in emerging markets, and is the outgoing Chairman of GE Capital Bank Europe, a role she has held since 2011. As well as this, she is non-executive director at Standard Life plc, the London Metal Exchange, CHAPS Co and Sirius Minerals.
Dr Pippa Malmgren, who is joining as a NEBM, is an internationally recognised commentator on global economics and geopolitical affairs. She spots trends and prepares organisations for the event horizon. She is the best-selling author of Signals and a former Presidential Adviser. She has worked on trade issues for the US government and served on the US President's Working Groups on Financial Markets and Corporate Governance. She helped negotiate Sarbanes Oxley in 2002. Dr Malmgren founded DRPM Group, which provides specialist advice on global economics and geopolitics; and H Robotics, a manufacturing firm which produces aerial platforms for commercial use.
Julie Currie will serve as both a NEBM and as chair of the Audit and Risk Committee. Julie is currently Chief Financial and Operating Officer at the Lloyds Bank Foundation for England and Wales since 2015, one of the UK's largest grant-making trusts. Julie has 20 years of experience in the UK commercial and social financial services sector and is a chartered accountant.
Non-executives sit on the Departmental Board, chaired by the Secretary of State. They advise on strategy, performance and the effective management of the department. They also provide independent scrutiny for the department upon request and advise on cross-government initiatives and policies.
These appointments come at the end of a highly-competitive process. We launched our search for non-executive directors (NEDs) back in the summer through advertisements on the Centre for Public Appointments and Women on Boards websites. We shortlisted 181 candidates for just 3 roles, including exceptionally well qualified individuals from a wide range of backgrounds, demonstrating the high level of interest there is in international trade.
Published 17 November 2016