Dr Fox thanks staff for support to Libya operations
Defence Secretary Dr Liam Fox has issued the following message to all Defence staff thanking them for their support to the mission to evacuate British nationals from Libya.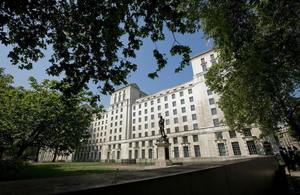 The past few weeks have seen our Armed Forces rapidly deployed to the Mediterranean to evacuate British nationals and foreign citizens from the deteriorating situation in Libya. More than 600 British nationals, as well as nationals from many other countries, have now been safely evacuated from Libya. This followed closely on the heels of similarly successful operations in Egypt.
Media coverage has focused on the hard work of the crews of HMS Cumberland and HMS York, and the relief flights between Tripoli and Malta. They deserve all the praise they are getting, but, as all of us in Defence are aware, there are thousands of military and civilian personnel working equally hard behind them to support their efforts and make sure that we are prepared for further contingencies that could yet arise. I wish to thank all of you who were involved.
Some of you have been working around the clock to analyse the unfolding events, to formulate policy advice to ministers, to meet the needs of the media, and, crucially, to deliver and support ships, aircraft and personnel to the region. I am well aware too that many in the UK have been put on standby to move should the humanitarian situation require additional commitment of forces.
We will, of course, continue to monitor the situation and respond appropriately to developments. I am confident that, through your hard work and dedication, whatever is asked of us in the future, on this or any other operations, the Ministry of Defence will continue to deliver for the citizens of this country. Ministers are very proud of the way in which this Department has responded.
Well done and thank you.
Published 8 March 2011