Dr Fox thanks Malta for assistance with Libya evacuations
Secretary of State for Defence Dr Liam Fox has paid tribute to the Maltese Government and its people for their assistance in evacuating stranded British citizens and foreign nationals from Libya.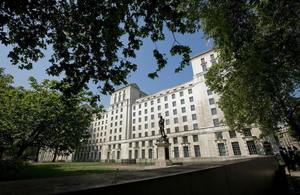 On an official visit to Malta, Dr Fox met with Prime Minister Dr Lawrence Gonzi and formally thanked him on behalf of Her Majesty's Government for the support that the UK has received as part of the international humanitarian operation.
During his stay, the Defence Secretary attended a reception onboard HMS Cumberland. The Type 22 frigate was retasked whilst on her way home to the UK from a six-month tour of duty in the Gulf and played a key role in the evacuation effort.
Dr Fox also attended a dinner hosted by the British High Commissioner to say thank you to key Maltese officials who had helped with the evacuations.
Dr Fox said:
I am extremely grateful to the people of Malta for the support that the UK has received during the humanitarian mission. The complex operations to rescue British citizens and other foreign nationals from Libya have showcased the importance of the strong and durable relationship that our two countries share. "I would also like to pay tribute to the efforts of our military personnel. The rapid and enthusiastic way in which our Armed Forces responded to this humanitarian crisis was first class.
HMS Cumberland's Commanding Officer, Captain Steve Dainton, welcomed Dr Fox onboard and said:
It is an honour to have Secretary of State for Defence visit HMS Cumberland and recognise the fantastic efforts of my dedicated crew. We were very glad to be of assistance to those stranded in Libya.
In total, HMS Cumberland helped to rescue 454 people, including 129 British nationals, transferring them to the safety of Malta. On his visit Dr Fox personally thanked the crew of HMS Cumberland for their role in rescuing endangered British and international evacuees.
Published 14 March 2011