Dr Fox praises British forces during first Afghanistan visit of 2011
Defence Secretary Dr Liam Fox kicked off 2011 with a visit to troops in Afghanistan to see for himself the progress being made towards handing over security responsibility to the Afghan Government.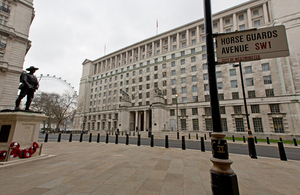 Dr Fox used the three-day visit to praise British troops and the work that they have achieved so far in Afghanistan.
He visited Mazar-e Sharif in Balkh province, held meetings with President Karzai and Afghan ministers in Kabul, and spoke to British troops in Helmand, where he witnessed, first hand, the hard work being carried out by British Service personnel.
He said:
The new government is fully committed to ensuring what our Armed Forces do here in Helmand is successful. 2011 is likely to be just as difficult as 2010 but progress is being made and we are heading in the right direction.
British Armed Forces are amongst the bravest and best in the world and the whole country owes them a debt of gratitude for the dangerous work they carry out each and every day.
Dr Fox also saw the progress which has been made in Mazar-e Sharif by the Swedish-led Provincial Reconstruction Team and German forces who lead Regional Command (North) to bring security and stability to the local area. He said:
I have seen on this visit that the threat from the insurgency across Afghanistan is constantly being reduced, security improved and the economic life of the country is beginning to come back.
[The Afghan] people are beginning to see that we are serious, not only about protecting them, but ensuring their well-being and prosperity.
The Defence Secretary also met with his Afghan counterpart Defence Minister General Wardak, Helmand Governor Mangal and President Karzai to discuss issues including detention, transition and development of the Afghan National Security Forces.
Dr Fox said:
In my meetings with President Karzai and his ministers I have made it very clear that Britain will remain a close and reliable partner to Afghanistan for many years to come. We will continue to support Afghanistan politically, economically and militarily after ISAF transfers responsibility to the Afghans in 2014.
We are serious about diminishing the threat to our own national security by ensuring that Al-Qaeda and their partners will never again have a safe haven in Afghanistan. And we are determined to leave Afghanistan and the region in a safer and more stable state than we found it. There's no doubt that our forces have done a tremendous job towards accomplishing this goal with courage and professionalism.
Dr Fox is looking for a continuation of the success of the UK mission in Afghanistan throughout 2011:
This is the first winter with the surge fully in place," he said. "It's crucial that we make a difference in degrading the insurgency's capability. We need to do it while they're vulnerable - that is a key aim of our forces in Helmand this winter. We now need to be patient and let the strategy run its course.
Dr Fox was accompanied by the Attorney General, Dominic Grieve QC, and Foreign Office Minister Alistair Burt.
During his visit, Dr Fox also met with Major General Richard Mills, Commander of Regional Command (South West), Brigadier James Chiswell, Commander of Task Force Helmand, Brigadier Alister Davis, Commander of Joint Force Support (Afghanistan), and Michael O'Neill, Head of the UK-led Provincial Reconstruction Team.
Published 5 January 2011