Dr Fox meets his French counterpart
Ongoing co-operation following the UK-France Summit and the mission in Afghanistan were top of the agenda during British Defence Secretary Dr Liam Fox's visit to Paris today.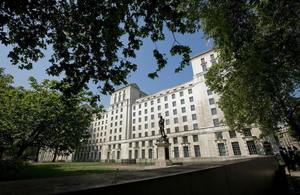 Following the UK-France treaties that were signed in London on 2 November 2010 by Prime Minister David Cameron and President Sarkozy, the Defence Secretary held talks with the French Defence Minister Alain Juppe for the first time since Minister Juppe took office.
They discussed the work which is now ongoing between the two countries in the areas covered by the treaties and looked forward to UK-French bilateral military exercises which will take place later this year.
The two Ministers also discussed the results of the NATO Summit which took place in Lisbon on 20 November 2010 and restated their commitment to NATO reform. On Afghanistan, they reaffirmed their support for the process of transition which will see security responsibility for districts and provinces progressively handed over to the Afghan National Security Forces.
Dr Fox said:
British and French interests are interlinked and our new strategic relationship is helping us tackle the biggest security challenges facing our two countries today.
"Minister Juppe and I had a very productive meeting where we discussed a range of topics including Afghanistan and ongoing work following the defence and security agreements signed by Prime Minister David Cameron and President Sarkozy at the recent UK-France Summit."
Published 13 January 2011