Dr Fox experiences capabilities of HMS Richmond
Following a top-level briefing at the Royal Navy's fleet headquarters at Portsmouth Naval Base on current overseas operational commitments, …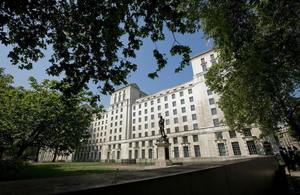 Following a top-level briefing at the Royal Navy's fleet headquarters at Portsmouth Naval Base on current overseas operational commitments, Dr Fox was flown out to HMS Richmond by the ship's Merlin helicopter.
Safely on board, Dr Fox was greeted by Captain Mike Walliker and was briefed on the ship's functions, defence and attack systems, and the overall capabilities of the ship, before getting a chance to experience some of those capabilities at first-hand.
Captain Walliker, the ship's commanding officer, said he hoped to use the visit to show the versatility and importance of the role of a frigate to the Navy.
Explaining that HMS Richmond has recently been involved in anti-piracy and anti-drugs operations, as well as protecting Iraq's oil fields and assisting in humanitarian missions in the Caribbean, Captain Walliker said:
I am delighted the Secretary of State has come out to see HMS Richmond. We have 180 of the ship's company on board who were delighted to explain the jobs that they do.
As part of the visit Dr Fox got to grips with some of the ship's defensive measures. He released a few hundred rounds from the general purpose machine gun before moving on to the powerful mini-gun - capable of firing 3,000 rounds per minute.
Dr Fox also went out in the fast inshore attack craft - mimicking the attack approach of small vessels - while the ship fired flares and blank rounds in a demonstration of her defence capability, and saw a fire-fighting and damage control team scenario.
Commenting on his visit, and in light of the forthcoming Strategic Defence and Security Review, Dr Fox said:
We are a maritime nation with 92 per cent of our trade going by sea, so this is no time for Britain to become sea-blind.

The forthcoming Strategic Defence and Security Review is to ensure that our maritime issues are in keeping with what we expect from our Navy.

Every option is on the table at the moment and we are looking at all the options with all of the Armed Forces involved. We want to see what capability the UK requires and decide accordingly.
Over the past few months HMS Richmond has been working around the UK, visiting its affiliated towns of Richmond upon Thames, where the ship's company paraded through the town, and also Richmond in North Yorkshire.
Chief Petty Officer Dickie Emery said:
It has been a very busy but important six months for us on board and it has been a great opportunity both for the ship's company and our affiliate towns to meet each other.

I think I probably speak for everyone on board when I say that the Royal Navy needs to be a big part of the defence commitments in the future.
Published 4 August 2010