Dr David Halpern reappointed as the What Works National Adviser
The Prime Minister has approved the reappointment of Dr David Halpern as the What Works National Adviser.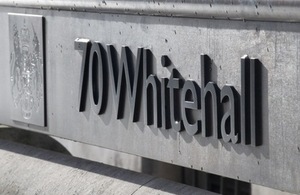 Dr Halpern's new 3-year appointment will take effect from November 2019. He has been What Works National Adviser since 2013 and is Chief Executive of the Behavioural Insights Team.
He was the founding Director of the Institute for Government, and between 2001 and 2007 was the Chief Analyst at the Prime Minister's Strategy Unit. Before entering government, Dr Halpern held academic posts at the Universities of Cambridge, Oxford and Harvard.
The role of the What Works National Adviser is to provide advice to ministers, the Cabinet Secretary and other leaders in government on what evidence shows to be cost-effective in delivering policy outcomes.
Cabinet Office and Treasury launched the What Works initiative in 2013 to ensure that public service professionals and commissioners have access to high quality evidence when making decisions. A five-year progress report was published in 2018.
Published 11 October 2019