World news story
Dr Chung Hee-sun to receive CBE
This was published under the 2010 to 2015 Conservative and Liberal Democrat coalition government
In recognition of her efforts to strengthen UK-Korea relations, Dr Chung Hee-sun to recive a CBE from Her Majesty Queen Elizabeth II.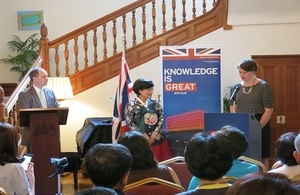 In recognition of her long-standing efforts to strengthen UK-Korea relations, particularly in science and education, Her Majesty Queen Elizabeth II has chosen to formally recognise Dr Heesun Chung by making her an Honorary Commander of the Order of the British Empire (CBE).
Dr Chung, currently Dean of the Graduate School of Analytical Science and Technology (GRAST) at Chungnam National University, was formally Director-General of the Korean National Forensic Service. She is an internationally respected forensic scientist, currently serving as President of the International Association of Forensic Toxicologists.
Dr Chung's relationship with the United Kingdom goes back to the early 1990s. She is a distinguished graduate of the British Government's Chevening scholarship scheme, having undertaken postgraduate study at King's College London. Since then and throughout a successful and high profile career she has worked tirelessly to enhance the reputation of the United Kingdom's world class universities in the Republic of Korea, developing research links and academic exchanges with British universities and encouraging leading Korean students to undertake study in the United Kingdom. In Korea, she served as President of the Chevening Alumni Association from 2011-2013, leading a range of alumni activities throughout that time in coordination with the Embassy and British Council.
The CBE was presented to Dr Chung by Her Majesty's Ambassador Scott Wightman. In presenting the award, Ambassador Wightman said:
On behalf of Her Majesty The Queen, I am delighted to present Dr Heesun Chung with the award of Honorary Commander of the Order of the British Empire. Dr Chung is a distinguished graduate of the British Government's Chevening scholarship scheme and for the last two decades has been a tireless supporter of our bilateral relationship, particularly in the field of science and education. I am delighted to recognise this outstanding contribution