News story
Deputy Prime Minister announces 2013 pupil premium finalists
The Deputy Prime Minister Nick Clegg has written to schools selected as regional winners of the pupil premium.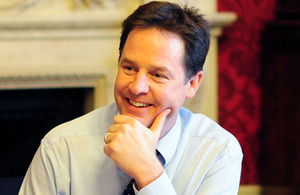 The pupil premium, announced in 2010 by the Deputy Prime Minister, provides additional funding for schools to help children eligible for free school meals in reaching their potential and help schools reduce educational inequalities. It's up to schools to decide how best to use this money, with almost £900 allocated per pupil. Evidence shows children from low income families generally do not achieve as well as pupils from more advantaged backgrounds.
Today, the Deputy Prime Minister wrote to schools that have been selected as regional winners of the Pupil Premium Awards. A number of schools also received letters of commendation.
The Pupil Premium Awards offer awards to schools that have used the pupil premium in the best way to help disadvantaged pupils. Schools selected as regional winners have been invited to a national ceremony in July, where the overall winner will be announced.
The awards are jointly run by the Deputy Prime Minister, the Times Educational Supplement and the Department for Education.
You can read more about pupil premium on the Department for Education website.
Published 24 May 2013