News story
Dover Seaways accident investigation report published
Contact made by ro-ro passenger ferry Dover Seaways with a breakwater while departing the Port of Dover on 9 November 2014.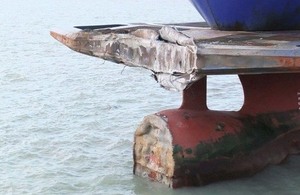 The report into MAIB's investigation of contact made by the ferry Dover Seaways, is now published. The vessel struck the end of a breakwater while departing from Dover, United Kingdom for passage to Dunkirk, France. The ferry's bow was damaged but the vessel returned to its berth without assistance. The impact resulted in several minor injuries to passengers and crew.
The report contains details of what happened, actions taken and recommendations. Read more.
Press enquiries
Press enquiries during office hours 07814 812293
Press enquiries out of hours 020 7944 4292
Published 19 November 2015