News story
Dounreay decommissioning draws a crowd
A group of high-profile Japanese visitors toured Dounreay to see ground-breaking decommissioning under way at the Scottish site.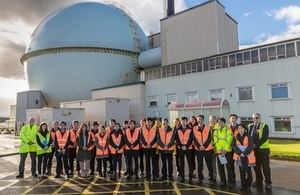 Representing the Japanese Government and nuclear industry, the visit was arranged by the Nuclear Decommissioning Authority and the British Embassy in Tokyo to help share learning as similar facilities in Japan start their decommissioning journey.
Dr Keith Franklin from the Embassy led the delegation. He said:
There are many similarities between the situation in the UK and Japan. Facilities in Japan are at the stage Dounreay was 20 years ago, with the Monju plant just approaching its decommissioning phase.
Phil Craig, Dounreay Managing Director, added:
It is always a pleasure to showcase the progress our team is making in decommissioning and hazard reduction. We have faced many challenges at Dounreay, many of them for the first time anywhere in the world, and we are happy to help and share best practice that we've developed here on the site.
Locally based suppliers, including Nuvia, JGC and Calder Engineering, joined the visitors to show how a strong and diverse supply chain can bring innovative decommissioning solutions - in the UK and abroad.
The visitors also saw the recently opened Nucleus facility, in nearby Wick, which is home to the nuclear archive. Nucleus holds civil nuclear records, plans, photographs, drawings and important data and information - some dating back to the beginning of the UK nuclear industry.
Published 27 October 2017