World news story
Double-decker visits Pol'and'Rock Festival
The double-decker London bus is part of a joint information campaign aimed at increasing awareness on the threats of human trafficking and modern slavery.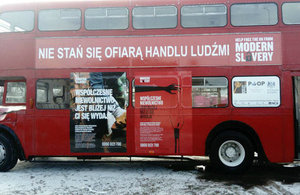 An iconic red double-decker London bus will arrive to Pol'and'Rock Festival, taking place on 1 - 4 August in Kostrzyn nad Odrą. The bus is part of the #BigRedBus campaign, organised by the British Embassy Warsaw Joint Serious Organised Crime platform in partnership with the Polish Police, La Strada Foundation and Salvation Army Poland with the aim of increasing awareness on threats related to modern slavery and human trafficking.
Attendants of the festival will be able to visit the bus, meet with law enforcement officers and experts on human trafficking and get useful information on how to avoid becoming a victim of modern slavery. A series of special educational activities will take place each day between 3 P.M - 7 P.M.
People who would like to get more information on threats related to modern slavery or are afraid that either they or their friends or families could have become victims of this crime may contact:
the Polish National Consulting and Intervention Centre for Victims of Trafficking (tel. +48 22 628 01 20, email: info@kcik.pl)
La Strada Foundation against Human Trafficking and Slavery (tel. +48 22 628 99 99)
the Polish Police helpline: (tel. +48 664 974 934, email: handelludzmibsk@policja.gov.pl)
Salvation Army Poland runs a free Job Verification Point for people who would like to have their job offer and working conditions checked and receive support before, during and after their relocation. Tel. +48 574 482 744, email: weryfikacja.pracy@armia-zbawienia.pl.
Fighting modern slavery is a priority for the British Government and Prime Minister. Since the Modern Slavery Act was implemented in 2015, government administration and law enforcement services have been making continuous efforts to raise the efficiency of their activities against this phenomenon.
Published 30 July 2018