Press release
Don't look straight at the sun on 6 June
Find a safe way to watch the Transit of Venus. People could permanently damage their eyesight and even risk blindness if they look directly …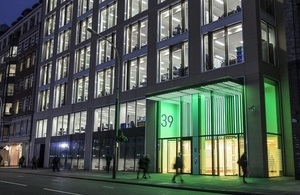 People could permanently damage their eyesight and even risk blindness if they look directly at Venus passing across the face of the Sun after sunrise on 6 June, the Chief Medical Officer has warned.
When the transit is visible - from sunrise until 5.50am on Wednesday 6 June in the UK- people should view it safely using one of the following methods:
on the television or live webcasts on the internet;
using a small telescope to project the event onto a screen; or
using specially designed solar filters (bearing appropriate CE mark)
Looking at the sun directly through a telescope, binoculars or camera is not safe, even just to line up a projection. Sunglasses, and photographic film are totally inadequate and should not be used to view the eclipse. It is also not safe to look through a telescope or binoculars wearing solar filters.
Chief Medical Officer Professor Dame Sally Davies said:
"None of us should look at the sun to watch Venus in transit. The risks to our sight from looking at the sun are very real and could lead to irreversible damage and even blindness.
"Children are particularly vulnerable as they may be tempted to take a peek.  We would urge parents to make sure their children watch it safely on TV, on a webcast, watching a projection or using CE-marked solar filters."
Anita Lightstone, Programme Director UK Vision Strategy, from the Royal National Institute of Blind People, said:
"It is vital that people take the issue of eye safety seriously.  People who look directly at the sun risk permanent eye damage, even blindness."
Notes to Editors
Webcasts for the safe viewing of the event are available at
European Space Agency (ESA) - from Svalbard
NASA - from Hawaii
A link to further information about how to view the event safely can be found on the Royal Astronomical Society website.

A transit of Venus is like a solar eclipse, but instead of the Moon being in-line between the Earth and the Sun it will be the planet Venus.  Venus looks much smaller from Earth so you would have to be specifically observing the Sun to see the small disc of Venus passing its disc.

Depending on where you are in the UK the transit will be visible after sunrise and will have ended by5.50am.

Solar radiation can permanently damage the eye and lead to blindness.

For Department of Health media enquiries only contact 020 7210 5257.
Published 1 June 2012