News story
Don Foster sees new fire cadets put through their paces
Communities Minister sees how some of the £10 million of government funding for voluntary youth groups nationwide is being spent.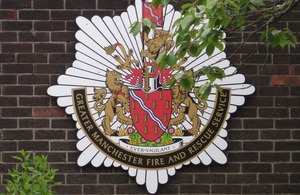 Communities Minister Don Foster is today (8 February 2013) seeing for himself how a newly created branch of fire cadets have learnt new skills as Greater Manchester Fire and Rescue Service (GMFRS) get 15 local children to demonstrate fire drills in Oldham.
Mr Foster is visiting Hollins Fire Station in Greater Manchester, where fire cadets started, to see how £10 million of government funding for voluntary youth groups nationwide, including for instance the Scouts and Girlguiding UK, is benefiting local communities such as Oldham.
Speaking about his visit Don Foster said:
"A common complaint from children and teenagers is 'I'm bored' and Greater Manchester is one area that has suffered from this through lack of youth groups and activities. This is why the government is investing £10 million creating at least 400 new youth groups nationwide, with 15 of them already open within Greater Manchester, to provide activities for local children and help them make new friends.
"And this goes further than just activities. Fire cadets and youth organisations do a fantastic job of training and teaching children new skills that will benefit them throughout their lives, and provide great opportunities for adults to get involved in volunteering in their community.
"Nowhere were the benefits of volunteering more obvious than during the Olympic and Paralympic Games where thousands of volunteers welcomed sports fans and helped to ensure the greatest games ever. I want to keep this spirit going."
Oldham Fire Cadets are one of the new groups created from £10 million of government funding to create at least 400 branches nationwide of groups such as cub packs, scout troupes and girl guide patrols. These will get around 10,800 additional young people involved and 2,700 new volunteers. Thirty new branches have already opened nationally, 15 of which are in Manchester, rising to 50 by March.
The government's funding is channelled through Youth United, which was established by The Prince of Wales and is a network of the UK's largest voluntary and volunteering youth organisations. This work has been matched in many areas by generous support and donations from the local community: for instance GMFRS has donated an old fire engine to Oldham Cadets, which is being demonstrated today.
GMFRS Children and Young People Manager, Katie Davis said:
"Thanks to a share of the £10 million Department for Communities and Local Government Supporting Inclusion Programme funding, GMFRS now has 5 new community fire cadet programmes including the cadet scheme at Hollins Fire Station in Oldham.
"It means the service now has 11 community fire cadet schemes with at least one in each of the 10 boroughs of Greater Manchester.
"We were delighted to donate one of our old fire engines to the new cadets because positive and meaningful engagement can make a key contribution to the lives of young people and GMFRS is committed to investing further in the young people we engage with through our many youth engagement programmes."
Published 8 February 2013