Press release
Dodgy dental equipment could come back to bite you
The internet provides easy access to a wide and diverse range of medical products and there has been rapid growth in sites offering cheaper alternatives but some of those being sold have not been properly tested and are not authorised for use in the dental sector in the UK.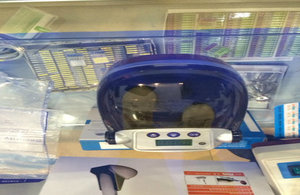 The Medicines and Healthcare products Regulatory Agency (MHRA) is joining forces with the British Dental Industry Association (BDIA) to warn of the risks of buying non-compliant and counterfeit dental devices and to promote awareness of the dangers that they present to patients and dentists.
In the last year MHRA has seized more than 1,900 counterfeit and non-compliant dental devices including dental hand pieces, dental surgery equipment and drill bits.
The cheap devices, being sold via the internet, can break and shatter while in the mouth, potentially causing horrific damage to the teeth and gums.
MHRA's Head of Enforcement, Alastair Jeffery said:
Dental patients expect quality care, including the standard of the instruments and devices used by dental professionals.

It is vital dentists and dental staff purchase equipment from bona fide suppliers and avoid non-compliant or counterfeit devices.

If they fail when being used, and damage your patient, seemingly cheap devices may end up costing you more in the long run.
BDIA Policy and Public Affairs Director, Edmund Proffitt said:
Together we can make a real difference educating dentists to the dangers of counterfeit devices, ensuring that they can buy with confidence and eradicating these dangerous and fake products from dentistry.
Ends
Notes to Editor
MHRA is responsible for regulating all medicines and medical devices in the UK. All our work is underpinned by robust and fact-based judgments to ensure that the benefits justify any risks. MHRA is a centre of the Medicines and Healthcare products Regulatory Agency which also includes the National Institute for Biological Standards and Control (NIBSC) and the Clinical Practice Research Datalink (CPRD). The Agency is an executive agency of the Department of Health. www.mhra.gov.uk
Media enquiries
News centre
MHRA
10 South Colonnade
London
E14 4PU
Email newscentre@mhra.gov.uk
During office hours: 020 3080 7651 (08:30 - 17:00)
Out of office hours: 07770 446 189 (17:00 - 08:30)
Office hours are Monday to Friday, 8:30am to 5pm. For real-time updates including the latest press releases and news statements, see our Twitter channel at https://www.twitter.com/mhrapress
Published 7 October 2016