Djibouti: a valued partner for the UK
Minister for Africa Henry Bellingham has held a meeting with Prime Minister Dileita Mohamed Dileita of Djibouti.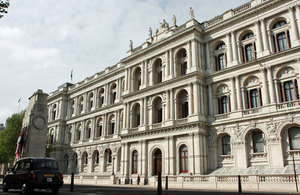 The Minister welcomed the Prime Minister to London on his first trip to the United Kingdom and conveyed his best wishes to Djibouti for the Olympics.
During the meeting they discussed a range of issues including the UK's bilateral relationship with Djibouti, promoting trade opportunities and the situation in Sudan and Somalia.
Mr Bellingham said:
"Djibouti is a valued partner for the UK and we are committed to strengthening the relationship. I look forward to welcoming a trade delegation to the UK later this year to raise awareness of opportunities in Djibouti.
"I also commended the Prime Minister on Djibouti's active role in regional security including their important participation in the African Union Mission in Somalia (AMISOM)."
Cooperation between the UK and Djibouti has increased over the last few years, with close working in many areas of shared interest, including piracy and regional security.
Published 27 July 2012